Black Friday: Why it ruins Thanksgiving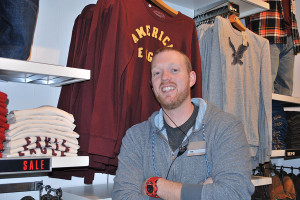 Thanksgiving is a special holiday. It is one of the few days left in the year that a family sits down to have a family dinner. In some cases, it is not only a gathering of one's immediate family, but even grandpas, grandmas, uncles, aunts, cousins, or second cousins. It brings people together that normally wouldn't and it is a time to be thankful for what we as Americans have.
Then there is Black Friday; one of the most chaotic days of the year. It is crazy every year, but this year, it is even more crazy. Black Friday may not have been around since Thanksgiving, but the beginning of Black Friday started around the 1930's according to Daven Hiskey of todayifoundout.com. He does note though that only since the 1960's has the day been officially called Black Friday. But every year it has become more and more chaotic.
For American Eagle Outfitters at the Merrimack Outlets, the store will be open at 6:00 pm.Timothy Kidd is an assistant manager at American Eagle and has worked Black Friday since he was 16. He offers two different opinions. He looks at both the moral and lucrative value of Black Friday and even opening on Thanksgiving night. He says, "Is it morally right? Probably not. But if I was a CEO and I knew that my company was going make a lot of money, I would probably be open." He also notes that if customers did not shop on Black Friday and Thanksgiving, then CEO's have no incentive to be open. Matthew Mailloux '14 says "It is a great time for businesses to make a lot of money. But Best Buy will be open at 6:00 p.m. on Thanksgiving. If people are going to come, we should be open." Mailloux is employed at Best Buy.
According to both Mailloux and Kidd, it really is up to the American people. It is their choice. Family time is essential to a meaningful life, but how could someone refuse these awesome sales? To shop or not to shop; that really is the question