Robotics Team Gears Up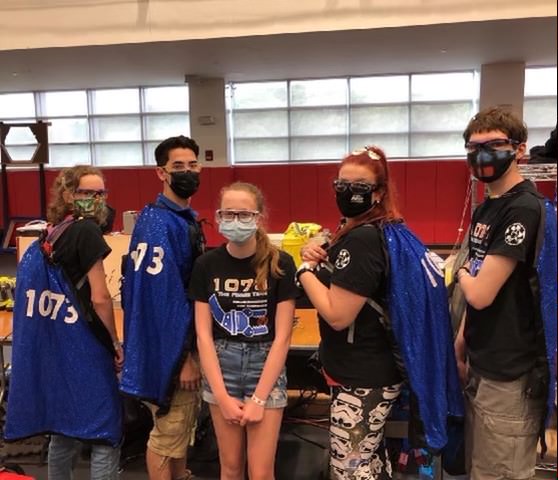 Our Robotics team, the "Force Team", is gearing up for an eventful season, and though it may not have started yet, they're already getting down to business. 
Currently, the team is in pre-season and is meeting several times a week and participating in competitions and events, like Mayhem Merrimack, which was held last week. Currently, they are focused on ramping up for the Governor's Cup on October 15th where they will be competing for scholarship money. 
Besides competitions, the Robotics pre-season is mostly focused on preparation. Elizabeth Heath, the team's head mentor, graduated from HB in 2006 and is currently entering her 20th season of Robotics. She knows how important it is to have a solid foundation when entering a new season.
A big part of pre-season consists of updating websites, raising money, marketing, and overall tending to the business side of things. 
Another important part is training new members. Students learn how to use the tools that the team needs to build their robots, like the mill or the router, and how to maneuver it with the precision that they'll need to excel in challenges down the line.
The official season will start with the announcement of a brand new game that teams will be competing in this year. As soon as they find out what they need to do, they will get to work designing a new robot build that can take on the task. Then they will put their work to the test in official events, starting with two qualifying competitions that will grant them entry into their district event. Teams that win their district events will then compete in the World Championship hosted in Houston. The goal is to make it as far as possible. 
During the season, the team will be competing in a series of official events that lead up to a world championship in Houston. VP of the Electro-Mechanical subgroup Megan King is optimistic about their chances this year. "We have a team of very good, very talented people," said King, "and I do think we can totally make it to the world championships again this year, because we did last year."
Robotics is about more than just innovation and engineering. It also brings opportunities to high schoolers and gives them a chance to face new challenges and develop confidence in their skills.
Heath knows how much Robotics can matter to students. "I didn't know what I wanted to be when… I was in high school, "Heath explained, "and the Robotics team provided me with a place where I felt like I belonged."
It was this experience that has made her want to come back year after year. She hopes to provide students with the same mentoring that helped her find direction in her life, and to show girls like her that they have a place in STEM fields.