HB Athletes: What's Ahead
Currently the majority of seniors at HB are stressed about the process of applying and getting accepted into college. For senior Sophia Jordan, that is the last thing she thinks about 
 when she steps onto the volleyball court. 
Jordan started the beginning of her senior year committed to Rollins College in Winter Park, Florida. She now has the relief that most seniors don't get until later in the year. But getting there wasn't easy. Becoming a college athlete is both a long and rigorous process.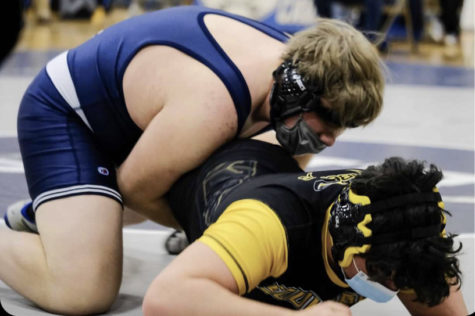 Jordan mentioned that she began the recruitment process in eighth grade. She started by attending camps with college recruiters and sending film to different colleges. She received her offer in July and couldn't be happier.
"I fell in love with the coaches and campus and I'm thrilled to attend," Jordan said. She believes that her four years playing volleyball at HB have given her a lot of knowledge and experience that she will take with her to college. 
Abby Hoffpauir is also a member of the varsity volleyball team. She is currently in the middle of the recruiting process and is hoping to get an offer from The University of Maine. Just like Jordan, Hoffpauir has attended camps and sends films to different colleges. Hoffpauir also plays for a club team and attends tournaments with college recruiters there. As Hoffpauir awaits offers she continues to thrive as a student and an athlete.
Deciding to join the recruitment process is not a simple decision. Ethan Strauss is on the wrestling team and is currently wavering as to whether or not he's going to wrestle in college. He currently is focusing on this season as he will be captain and plans to hold the title win his team received last season. He said that if he was going to wrestle in college he would want to go to a D3 school. He said in order to potentially get recruited he will need to be alert at his meets for different recruiters to make a good impression. 
All athletes embody characteristics that have allowed them to get to this point in their athletic careers. The recruitment process is a way for athletes to get a leg up in their future. Though it's hard, the payoff is definitely worth it. Everyone in this article mentioned that they would be thrilled to play the sport they love at a collegiate level.