What are Students and Staff Currently Reading?
As we continue to advance in technology, people often wonder if young adults and children are straying away from reading as a hobby and passion in favour of video games and television. Books have always been one of the most popular pastimes in the world, but the internet competes for the attention of younger generations as attention spans grow shorter. Could increased access to technology be a tool for younger readers now and in the future?
Digital reading devices, such as eReaders, were introduced in the early 2000s. With this technology, we can download books right to our phones and other devices without having to drive to the bookstore. This makes books much more accessible to many people. Statista expects the number of eReader users to grow from 950.5 million in 2019 to 1.11 billion within the next year. Although many are making the switch, a majority still seem to prefer paper copies.
"Always paper books," senior Katelyn Seamonds says. "I enjoy annotating and sticky noting too much." Out of the seven people interviewed for this article, only three stated that they use eBooks for some of their reading. Two out of seven say that they use libraries, but the majority get their hard copies from bookstores like Barnes & Noble, or indie bookstores such as Toadstool Bookshop.
Throughout the 2020 lockdown, many people did start reading more than they had previously. Publishers Weekly states that book print sales rose 8.9% in 2021. The numbers rose from 757.9 million unit sales in 2020 to 825.7 million units in 2021.
Unit sales of specific reading levels have risen over the last year as well. Young adult fiction has raised 30.7%, with adult fiction close behind at 25.7%. The only category that has decreased in unit sales was juvenile nonfiction, which lowered by 6.2%.
Although individual unit sales are increasing, there has been a trend of a decrease in overall revenue in the industry in recent years.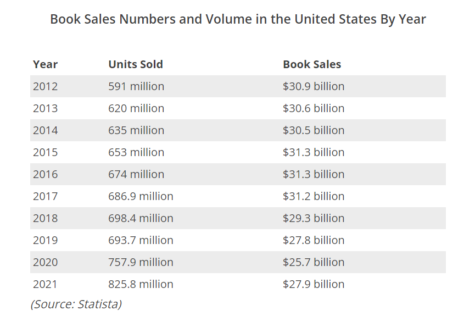 Many people in the book writing, publishing and researching industries seem to be wondering: are teenagers still reading as often as they used to? However, this article answers a different question: what are teenagers reading right now, specifically what are students (and staff) at Hollis Brookline High School reading right now?
Katelyn Seamonds '23 is currently reading My Policeman by Bethan Roberts. It is a historical fiction romance novel set in Brighton, England during the 1950s. She is nearly done with her second read of the book, which has recently been adapted into a film starring Harry Styles. The reason why she chose this book is because she had an interest in watching the film, but prefers to read the book first. Seamonds says this preference is because she believes the book always goes more in-depth story-wise.
"It's about the complicated relationship a schoolteacher has with her husband Tok, who is a policeman," Seamonds said when explaining the story. "Their relationship is complicated because he has a secret relationship with a man named Patrick who works at a museum." She recommends this book to anyone that enjoys historical fiction and love stories.
"It's one of those books that doesn't have a happy ending or a sad ending, its ending makes you think," Seamonds added. She said anyone who reads this is likely to sob, as it is "a very heartbreaking and tragic read."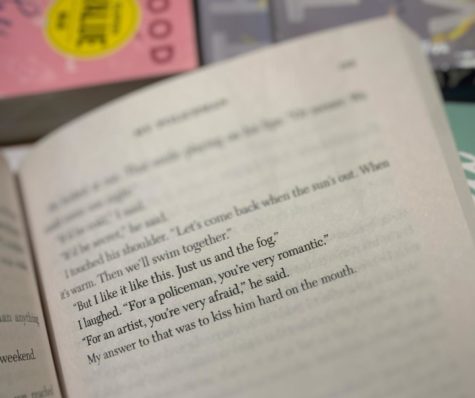 Brynn Spencer '25 is currently reading The Invisible Life of Addie LaRue by V.E. Schwab. She is nearly done re-reading the novel, which is categorized as historical fiction and fantasy.
"It's a book about a girl who doesn't want to die without having accomplished anything, so she makes a deal with the devil to live forever but nobody will ever remember her," Spencer explains. "I chose this book because I found that the character's goals and struggles were relatable and the blurb on the back of the book kept me invested." In addition to this, she said the gorgeous cover also drew her attention. She recommends the book to readers that will enjoy the book not just for the plot, but for the writing.
"I enjoy reading because it gives me insight on how other people think and live their lives. It makes me more socially intelligent and teaches me things about people I wouldn't have known otherwise. It's also a way to escape the stress of my schoolwork, and distract myself with a book that makes me happy. I'm encouraged to keep reading by all the positive relationships and goals reading has already given my life."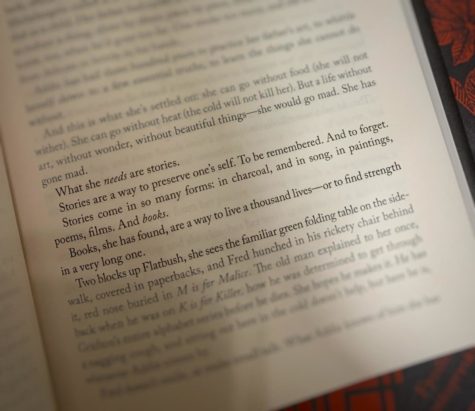 Mrs. Victoria Flaherty, one of the teachers in the English department at HBHS, is currently reading We Sold Our Souls by Grady Henrix, a horror book with mystery elements. In addition to this, she is also reading Jane Eyre by Charlotte Brontё and Do Androids Dream of Electric Sheep? while teaching them in various English classes.
Flaherty didn't have too much to say on the plot of the book, as she has just started reading it and is only about thirty pages in. She did say that it's a fun, easy read that she is enjoying so far. It includes fighting evil and supernatural and band elements. Flaherty chose this book because it has the concept of music and horror being related, which she discovered she enjoyed through the latest season of "Stranger Things". In addition to this, she has read other works by this author.
"I think what I enjoy the most is different perspectives on the world that it gives me," Flaherty said when asked what encourages her to keep reading. She recommends trying out different genres than what you usually read, as she is doing right now with this book. "I've found something really enjoyable in what I've tried."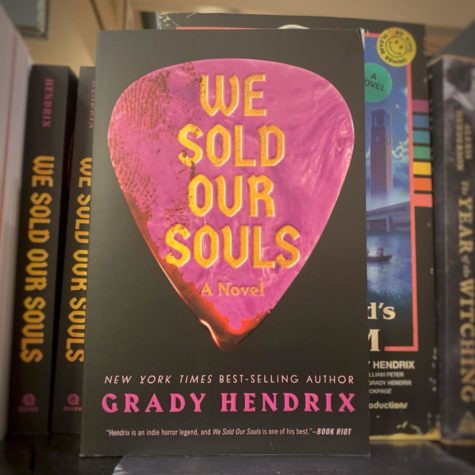 Arden Goodchild '23 is currently reading Do Androids Dream of Electric Sheep? by Philip K. Dick. It is assigned reading in Mrs. Flaherty's science fiction class, and she is a little more than halfway through the book.
"So far, the book mainly follows a robot-killing bounty hunter named Rick Deckard as he tries to hunt down escaped androids on Earth. The androids do everything they can to stop him from killing them, from gaslighting to murder," Goodchild said while explaining the plot, and she would recommend the book to "philosophical readers who enjoy exploring big questions and radioactive fallout."
"I enjoy reading it for its rich worldbuilding and unreliable narrator. There are points in the book where the reader's entire understanding of the story, world and narrator are challenged. It's like a puzzle."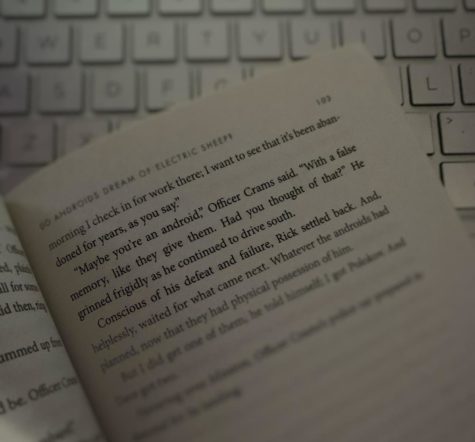 Owen Goodchild '23 recently read The Time Traveler's Wife by Audrey Niffenegger. He just finished the book, which he had found at the "take a book, leave a book" section of the YMCA, and is planning on putting it back for another reader to enjoy.
"In a romance across time, a man time travels spontaneously all the time, and he works through his relationship with that and his wife," he describes it. "I would recommend to readers who are okay with the story being a little weird. The wife does not have time problems, and the husband does, and following that is a mess." The book is categorized as fiction, romance, fantasy and science fiction for its time-traveling theme.
"I feel like stories are an important part of history, and it's important to read so that I can stay articulate."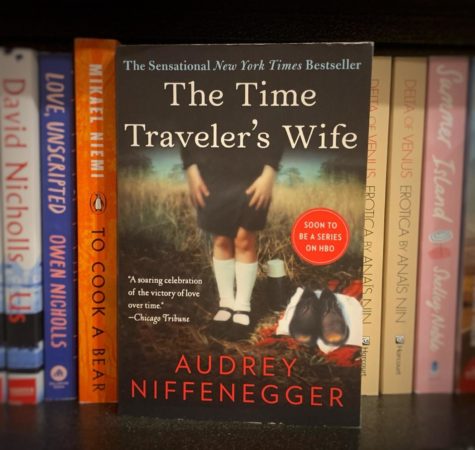 Alyssa Ulhman '23 is currently reading The Conference of the Birds by Ransom Riggs, the fifth book in the series Miss Peregrine's Peculiar Children. It's a fantasy, mystery and adventure book, and she is about three-quarters through the novel.
"With only a few bewildering clues to follow, Jacob must figure out how to find V, the most enigmatic, and most powerful, of Abe's former associates but she doesn't want to be found. With enemies behind him and the unknown ahead, Jacob Portman's story continues as he takes a brave leap toward his next adventure," Ulhman explains using a mix of her own words with the summary blurb from the back of the book. She recommends it to readers that enjoy supernatural and fantasy books containing characters that have supernatural powers. She also says that anyone who enjoys the movie based on the first book should get into the series. Uhlman states she doesn't recall whether she had seen the movie or started the series first, "but it was a general curiosity towards both and got into and really enjoyed it."
"I like reading because it takes me into a whole other world, either realistic or pure fantasy, and it's fun to go into the minds of authors to see either their perspective on things or what the world would look like in a different universe."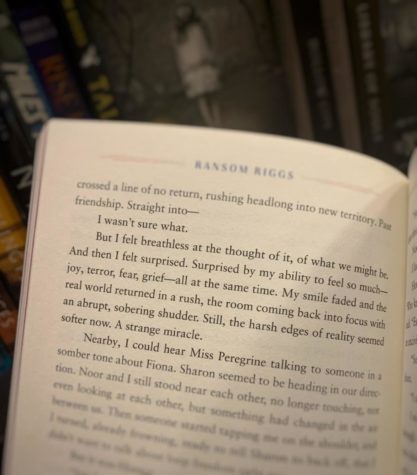 Mrs. Christine Heaton, a librarian at HBHS, is currently reading Delivered Under Fire: Absalom Markland and Freedom's Mail by Candice Shy Hooper and A Botanist's Guide to Flowers and Fatality by Kate Khavari, the second book in the Saffron Everleigh Mystery series.
"This is a compelling narrative of a significant but little-known figure in American history," she stated. "[It's a] landmark biography, a part of history that has been forgotten, this research that has been done by Hooper has not been done before." Delivered Under Fire is a historical biography of Absalom Markland, a special agent of the United States Post Office during the Civil War. He carried important messages between President Lincoln and Generals Grant and Sherman during the war efforts. This is the first biography to have ever been written about Markland, and Heaton is excited to see the controversy, theories and discussions that will unite historical groups. This book will be released in March of next year.
"This writer is good with little puzzles within puzzles," Heaton says about A Botanist's Guide to Flowers and Fatality. This book is a historical fiction mystery and takes place in a 1920s British university. It's set in time at the beginning of the world taking the field of botany seriously, not just for poisons but for what plants can do for medicine, nutrition and environmental protection. It is also around the time that women were beginning to be allowed to join universities as both students and professors. Heaton says that it's a "fun read." This book will be released in June of next year.
Heaton has access to many Advanced Reader Copies (ARCS), which are books that have been written and put together but are still in the process of being published. As a school librarian, she gets sent free books from "literally everywhere" she says. She received the two eBooks she is currently reading from NetGalley.com.
NetGalley is a free website where readers have access to books before they get published, discovering new titles before they hit the shelves. NetGalley gives you a certain amount of time to finish each book that you select to read, and once you finish reading it requests a review from you. Although this site sounds like a haven for readers who anticipate pending titles, it is for people who work in the book industry, such as librarians, booksellers, and publishers. As well as using it for personal reading, Heaton uses NetGalley to sample titles that she might be interested in putting on the shelves of our school library in the future.
"By following the trends, I know what's going to come up." Like any other market, the book industry has trending topics, themes, and genres that are reflected in whatever titles are currently popular. Using research done by professionals, as well as keeping track of what genres and styles of writing are currently trending and what titles are pending to be published, Heaton can accurately predict what books will be popular when they hit the shelves, and make sure to stock our library with them.
"I like knowing things, and just because you know something about something today, doesn't mean it will stay the same," Heaton said when asked why she likes to read. "That's why I keep reading, because things change, views change, the world changes, and I don't wanna get stuck in old ideas and old perspectives."