Potion Craft is the Ideal Alchemy Game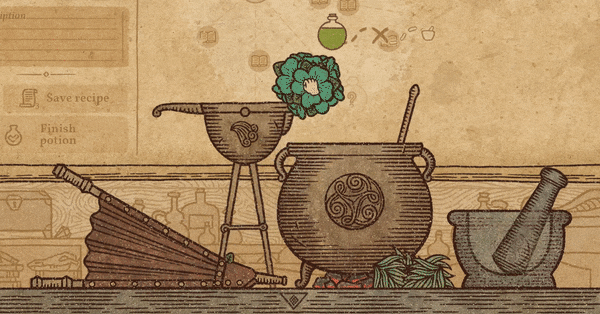 Potion Craft: Alchemist Simulator is a casual management simulator released on December 13 of 2022, that takes place in a medieval fantasy setting. It features intuitive gameplay, an iconic art style and fun character interactions.
This game is rated "Everyone", although the required skill to play Potion Craft effectively hovers around the age of 9. It should also be noted that the game contains very mild sexual references; when a customer requests a 'Potion of Libido', they will say something along the lines of, "I need a potion that helps in bed". These references are more than likely to pass over the heads of a younger audience.
The primary goal for someone playing Potion Craft is to discover all the possible potion effects and ingredients, and as a simulator game, there is a bit of self-insert when it comes to the story. Are you a dark alchemist that only serves customers with bad intentions? Do you always try to get the absolute best deal when selling potions or buying ingredients? Do you have a vendetta against fungus, and will never use mushrooms in your potions? At the end of the day it's mostly on the player to decide what kind of potion seller they are.
I enjoy the game mechanics above all else in this game, they just make sense. The tutorial is not much longer than five minutes, and I would say that they are best on a mouse and keyboard. The control scheme for Potion Craft is so simple that it can be played with nothing but a mouse, which says a lot about the accessibility of the game.
The art style is inspired by medieval texts and paintings, everything is 2D, with nothing but shading to indicate depth. This reflects art from that time period, where people are depicted with their face angled at 45 degrees, and hands at their sides. The pleasant color scheme is not just for visuals either, the color of ingredients indicate how they will affect your brew, while potion color indicates the effects that it contains.
The developers of Potion Craft, Niceplay Games have big plans for this relatively new game. Updates in the near future include new ingredient types (and subsequently new merchants), upgrades for the potion shop, updated customer interactions and a more robust skill tree.
Potion Craft: Alchemist Simulator is available for Xbox One, Xbox Series X, and PC on Steam, GOG and Epic Games for $11.99.  Niceplay Games have 2023 spring releases planned for PlayStation and Switch. As always I recommend purchasing the game during a sale event, these events are particularly frequent on Steam.