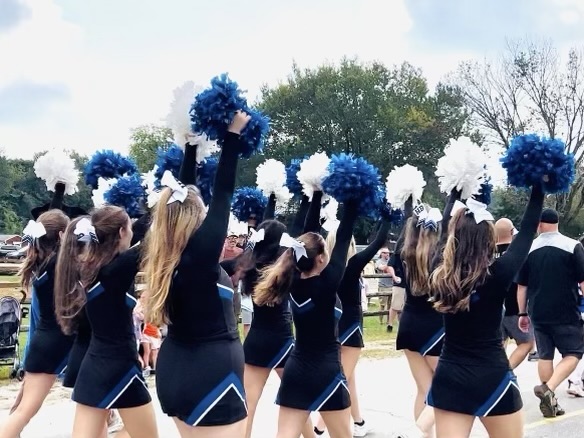 The cheer team has recently begun one of their best seasons yet with six very skilled seniors taking the lead on the team. That being said, with the possibility of only five people cheering next year, the team is prepared for next season to be very different.
The HB cheer team has six current seniors: Brianna Buckland, Natasha Smith, Zoe Welts, Sydney Lemos, Kaila Lumpkin and Jocelyn Scherer. This means only five team members will return next year. The team is unsure about their plans for the future, but they are all hopeful that they will still be able to compete. "We are really hoping that we will get some freshmen next year because that is necessary. Even if we do only have those 5 athletes next year, the good news is that they're all seasoned and they'll have had a really great group of people that have inspired them up to this point," said coach Christina Ellis. Hannah Welts '25, a junior on the team, had a similar opinion on the subject. "Half the team is seniors, so it's definitely going to be a struggle, we really need some freshmen to step up. We're looking for flyers," said Welts. 
Although the team is hoping for more freshmen to join next year, they will still have a very strong group of upperclassmen to lead them through the season, no matter how many people are on the team. Both Summer Leavitt '25 and Sarah Gilespe '25 have proven themselves to be strong leaders and are expected to have an important role on the team in their upcoming senior season. Hannah Welts '25, Emily Landers '26, and Sasha Watrous '26 will also have crucial roles in the future success of the team.
Despite their prospected losses, the team is enjoying their current season and often uses the cheer 'last one, best one' to commemorate the seniors' last season. "'Last one, best one' means just that; they're trying to leave it all on the floor, and so far they are doing really well," said Ellis, explaining the meaning of the saying. This season is especially important for many of the seniors because they have been cheering together for at least all 4 years of high school, although many of them have been teammates since elementary school. 
In their final year together, the team is confident in their abilities, especially with so much talent from both upper and lower classmen. "I think we're all doing a lot better than we ever have and I think we're all putting in 110% effort every practice… what we're going to put together for competition will be really good this year," said Brianna Buckland '24, a senior on the team. "We're really prepared this season, we're doing a lot of conditioning, a lot of strength training, so it's gone a lot better," added Welts. 
The team is currently cheering at the HB football games, but as the fall season wraps up they will begin to compete in the winter.