A model effort at the MUN Conference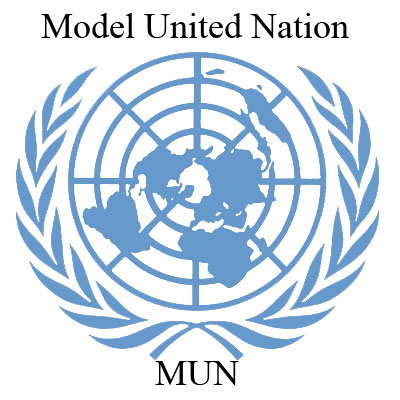 On December 14, debate adviser and social studies teacher Kathy Kirby sent five students–Caitlin Ross '17, Gintas Paradie '15, Matt Watrous '16, Anne Reuter '14 and Devin Orr '15–to a Model United Nations (MUN) meeting in Danvers, Massachusetts. This meeting was compiled of numerous high school students across New England. HB has gone many times before and, just like previous MUN conferences, this was a successful one.
A Model United Nations gives high school students a debate-styled learning environment and allows them to engage in current events that face the global society. Each student is assigned a country and are sent into different committees. They research their selected country and then have to defend it's point of view on particular current events. For example, Orr's committee dealt with the United Nations Security Council, finding solutions to the crisis in Syria. Orr represented Argentina and in her efforts, she was given the "Best Delegate" award in her committee. Aside from real situations, the Model United Nations also dealt with hypothetical situations.
Ross was on the committee that dealt with Texas potentially becoming it's own individual country. Ross defended a Texan Democrat's perspective. Ross said "It was very fun and exciting. We decided to split Texas into five new states, since the people wanted more representation. Sadly, the people started rioting and we were forced to secede instead. The government even gave us permission to secede. They thought that the riots would spread to other states if we didn't." Ross is a freshman and has truly enjoyed her brief time as a part of the debate team.
While another student, Emily Choate '14 could not attend due to illness the day of the event, says the "Model United Nations gives a global perspective on all sorts of varying social, political, economic, and defense issues. It gives participants a chance to step outside the policies they're familiar with and understand the views of another country's viewpoints." Choate is the President of the debate team. The debate team looks for their next event dealing with Youth and Government at the state house.
If anyone is interested in joining the debate team, they meet every Wednesday in Ms. Kirby's room until 3:30.