Bracelets created to honor Cam Ricard
As a reminder of beloved fellow student and teammate, Cam Ricard, '14, who passed away this past year, students of Hollis Brookline have set out to sell bracelets in loving memory during all lunches week.
"It was Ian's idea to begin with. It's an easy thing to do and not too expensive so students can afford them," said Sara Swabowicz, '14. "It took a lot to go through administration. We spent all of Cav Block looking for Girzone or Barnes to get permission. It was a long process, but was definitely worth it."
The students participating in helping with the bracelets are Swabowicz, Ian McNamara, '15, Erin Stowell, '16, Ellie Caswell, '16, Dan Ash, '15, and Megan Olson, '16. "I think this is something Cam would've really liked. Even graduated seniors and Alvirne's hockey team want to buy some." said McNamara, who was a good friend and fellow teammate of Ricard.
The bracelets will be sold for $2 during all lunches. They're blue, and say "Cam Ricard #8-Forever in our Hearts" written in white. All the proceeds of the bracelets will go to the Cam Ricard Memorial Scholarship Fund.
About the Contributor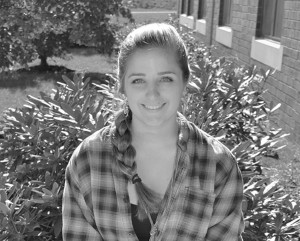 Mackenzie Riel, Back Page Editor
Mackenzie Riel a senior at Hollis Brookline High school. Not only is writing one of her greatest passions, but many different themes of photography have...