Farrell picks the Pioneers
When you play a sport in high school and are dedicated to what you are doing, nothing feels better than when other coaches start watching and taking notice of your work. They scout, contact you, and try to convince you to play for their school or team in the coming years. Once this process starts picking up steam, however, the athlete being watched has to choose a school and decide where they will be playing their sport.
Numerous Hollis Brookline senior athletes have already committed to their colleges for the upcoming sports seasons, such as baseball player Cam LaFleur, runner Emma Newton, and lacrosse player Gigi Eliopoulos, who committed to Merrimack College, Tulane University, and Assumption College respectively. Now, Shea Farrell, '14, is a part of the list, as he committed to Utica College and will be a part of the Pioneers' football team in the fall.
Farrell, a senior captain for the HB football team this past fall, cited different factors that led to his decision. "When I was on campus, all the students and professors seemed like they really enjoyed being there. I really liked the family atmosphere there. I also really liked the coaches," Farrell said. "They all love and respect the game and feel the same way towards their players."
The environment will be a different one than Farrell is used to, but he feels that he is ready to take on the challenge. Farrell said, "I'm excited to be on a field where I'm not the only big kid. I'll be playing with kids that are similar in size and share the same passion and love for the game that I have."
About the Contributor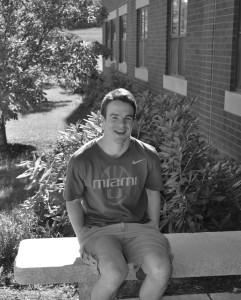 Austin Bumpus, Co Editor-in-Chief
Austin Bumpus is a senior at Hollis/Brookline High School and co-editor of The CavChron LINE, alongside Sara Swabowicz. He is captain of the wrestling...