Anything Goes Ready to Set Sail
The Hollis-Brookline High School theatre department has returned to bring the community another show that students, parents, and teachers can enjoy. This musical production is of the Broadway show Anything Goes with the original score written by Cole Porter.
    Anything Goes, directed by Elyse Tomlinson, follows Wall Street stockbroker Billy Crocker played by Alec Paulson, '14. Billy is not supposed to be going on the trip, but he sneaks onto the boat when he finds out that he love of his life is sailing to be married. He teams up with his friends Reno Sweeny and Public Enemy Number 13 Moonface Martin, in order to win her love. Paulson says,"It is such an amazing story about friendship, romance, and finding love during their journey across the atlantic."
During the production and the making of the musical, the actors and crew faced some struggles. Due to the several snow days that HB had, much of rehearsal and set building was hindered. "Many snow days held us back," Paulson said, "we had to take a 'field trip' day to make up for the time that we lost."
The set for the Anything Goes has a large variety of changing scenes. Art teacher, Lina Pepper and students in the art department helped in great lengths to make the set and the stage possible. Tomlinson said, "The first production that we did in 2004, Norma Torti designed the set, and with the help from Pepper we were able to recreate it."
All of the actors and members of the production are excited and ready to perform. Tomlinson said that, "My favorite part of this entire process is seeing all of the parts of the play come together. The singing, the dancing, the set, the costumes, and the students all working hard to make a great musical." The show kicks off on Friday, March 21 with the curtain at 7:30 and a second show on Saturday starting at 4.
Leave a Comment
About the Contributor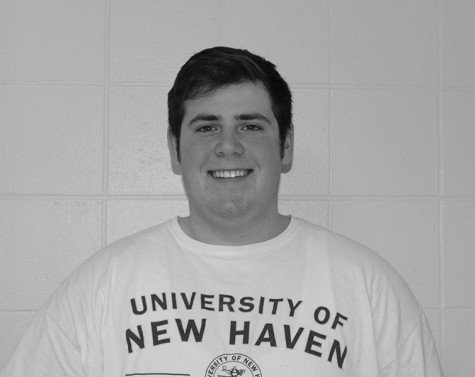 Harrison Newman, Sports Center
Harrison Newman came to Hollis Brookline in the winter of 2013. Quickly becoming an active member on the football team, he took to step into the realm...