Sophomore unable to hand in homework for two weeks because couple won't stop PDA at locker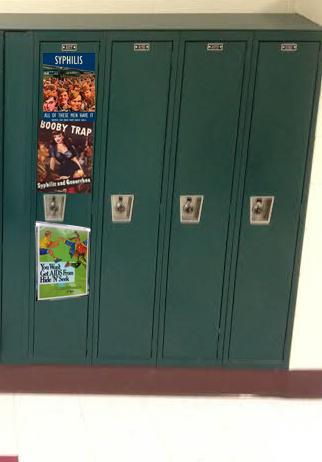 For the past two weeks, Caroline Bertone, '15 has helplessly watched her grades slip from A's to B's, and B's to C's. Teachers were quickly becoming annoyed with Bertone, who could not access any of her homework or binders for all seven of her classes because of the couple that would not stop making out in front of her locker.
"It's really uncomfortable," says Bertone. "I've tried standing there for a few minutes, coughing politely, and even asking them to move."
Bertone even asked a senior she is good friends with to make the lip locked couple move. However, her attempts to access her locker have resulted in no success, and her teachers quickly lost pity for the sophomore's situation.
"It was okay for a day, because I didn't have much to do, but after a week, I'm getting really fed up. I couldn't study for my math test because they wouldn't move. These people need to realize that their romance isn't helping my grades."
Now that Bertone is at the end of her rope, she has finally considered taking drastic measures to evict the couple that has parked itself in front of her locker for what seems to be an eternity.
"I'm not going to let them do this until they graduate," says an annoyed Bertone. "I'll put up posters about STD's if I have to. If that doesn't work, I'll have to resort to squirt bottles or something."
Leave a Comment