Miley Mayhem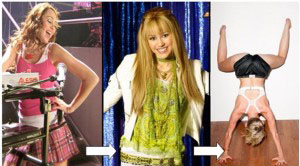 Although former Disney Star Miley Cyrus insists that she "can't stop" it is becoming evident to members of society that she in fact does need to stop; and the sooner the better.
After a recent racy performance at the MTV VMA's, people are left in shock. Many people are asking themselves "What happened to Hannah Montana?" Sure, Hannah Montana is famous for saying "Nobody's perfect," but at what point does one's actions become inappropriate for public viewing? Cyrus has pushed the limits of society by inappropriately twerking on singer, Robin Thicke. Cyrus' actions resulted in Vogue pulling her from the cover of their October issue. When Bree Johnson, '15, was asked about this performance, she said, "I believe not only is [Cyrus] immature, but a disgrace to society. Every day she proves to be more vulgar, and provocative so that she can in the end, get attention."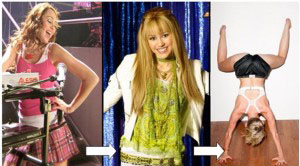 On September 9, Cyrus released her new music video for a song called "Wrecking Ball". Although the song is catchier than the plague, the video is vulgar and rather offsetting to viewers. In the video, Cyrus is seen swinging nude on a wrecking ball as she sings about how she was affected by a previous relationship. Not only does this set a bad example for Cyrus' younger fans, but it also isn't appropriate for media in general.
 

Miley Cyrus' progression over the past seven years.
Cyrus fans keep thinking to themselves, "[We] miss you, [we] miss your smile". Where did the old Miley go, and will she take a turn for the better before she is eternally remembered as Hollywood's next misdirected teen star?