Getting in the swing of things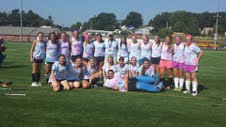 So far, the Fall sports season is full of wins as well as losses. This year the HB field hockey team is one that has been well noted for its winning record and close team. There are also new coaches for the team this year.
Jack Taber has been bumped up from the junior varsity coach to the head varsity coach for the team. He also coaches the girl's varsity lacrosse team in the springtime. His expectations for the season have started out well and he thinks it'll be here to stay. The girls are a close group as well, with team bonding at pasta parties and having fun on the field during both games and practices. Sydney Macleod, '14, varsity co-captain, said, "I'm really excited about this season because the team chemistry is stronger than ever before which has really reflected in our success so far and I've never felt so close with a team before at HB."
The girls are off to a good start with the season at a record of 1-1, but have plenty more games to go. "I think that the team is pretty young, but has a lot of potential and we all get along really well together and it's going to be a good and fun season," said Gigi Eliopoulos, '14, varsity co-captain. The team is strong with a variety of grade levels on the team as well as the JV team getting stronger as the season goes on. So far things are looking up for the girls 2013 field hockey team here at Hollis Brookline High School.