Hockey opener: Finding their chemistry
No longer the Hollis Brookline Cavaliers hockey team and now the Hollis Brookline Derryfield Warriors, the Warriors had their first opening game on Wednesday at 8:30 p.m. at the Cyclones Arena in Hudson, NH. The team faced the Timberlane Owls, who made for tough competition for the HBDS Warriors. This game put the HB team to the test, to see if the three towns can compete in harmony.
The Warriors came to existence due to a shortage of players on both the Hollis Brookline team and the Derryfield team. The two town's teams merged together, causing the team to move up a division to Division II. The Hollis Brookline roster consists of seniors Tommy Johnson, Kyle Stephens, Zach Goyette, Dan Ash, Brett Pearson; juniors Evan Daskalos, and Jack Shields; sophomores Sam Poison and Bryce Newsham; and freshman Pat MacDonald.
Evan Daskalos '16,  a defenseman on the Warriors team, talked before the game about how he thought they would do in their season opener: "I think we have a pretty good chance of beating Timberlane. I am not saying it is going to be easy, but we are a strong team and work well together with lots of talent. We work well as a team, which is what I think sets us apart from other teams with our ability to achieve a common goal. Overall, this is looking like a really good year for the ice hockey team. We have really good coaches and with their support, you will definitely be seeing us in the playoffs."
The game was hard fought but the Warriors lost 4-3. The game was back and forth, with a 5-on-3 power play in the last two minutes the team failed to score. The Warriors racked up 38 shots, firing from all angles and putting Timberlane's goalie to the test; however, the team's pressuring offense and stingy defense were not enough to beat Timberlane in Warriors' first game of the season.
HBDS Warriors Home Games
| | | |
| --- | --- | --- |
| Date | Opponent | Start Time |
| 12/17/2014 | Timberlane | 8:30pm |
| 1/3/2015 | Windham | 8:30pm |
| 1/7/2015 | Dover | 8:30pm |
| 1/14/15 | Winnacunnet | 8:30pm |
| 1/24/15 | Lebanon | 8:30pm |
| 2/4/15 | Goffstown | 8:30pm |
| 2/11/15 | Somersworth- Coe Brown | 8:30pm |
| 2/25/15 | Keene | 8:30pm |
About the Contributor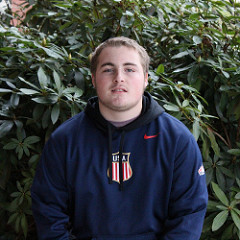 Jack Shields, Sports Editor
Jack Shields is a senior at Hollis Brookline High School. This is his second year in journalism and he plans on making the CavChron interesting and exciting...