Boys lacrosse vs. Timberlane Owls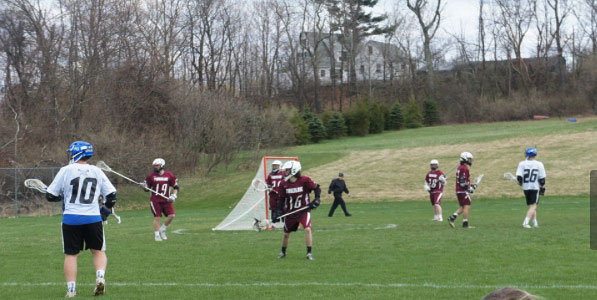 The Varsity and Junior Varsity Hollis Brookline Cavaliers lacrosse teams faced off against the Timberlane Owls in close games on Friday, April 24 for the Cavaliers' first home game.
Both teams played through cold air and stinging winds, while the fans from both Hollis-Brookline and Timberlane wrapped themselves in coats and blankets on the sidelines. Despite the cloudy darkness that soon seemed to overtake the field, the Cavs braved the cold and gave the Owls a good game regardless, though it wasn't enough to earn them a victory.
The Varsity teams took to the field first, and the Cavs held the Owls off and scored the first three points of the game early in the first quarter before the Owls started to take the game towards the Cavs side of the field.
Highlights of the game include a four point streak from Pat Dunn '15 during the middle two quarters. Dunn's aggressive plays won him shot after shot on the Timberlane goalie, which soon began to pay off. Dunn's first point was a skilled shot to the bottom left of the net, barely slipping behind the goalie. It didn't take long before Dunn put three more in the back of the net.
First year Varsity goalie Trevor Cooke '16 says, "I think we played to our full potential, but the problem was [that] we didn't have all of our players out there with us." Cooke has spent the past two years as a swing for the lacrosse teams; swinging up to varsity games as he was needed.
"We did move up a division, from D3 to D2," Cooke says, which he believes may be a factor to the teams' struggles this year," Cooke said. "If we focus in practice and train hard, we can pick up our lead again."
The game resulted in a Timberlane victory, with a 15-12 record, bringing the Cavs game record to 1-3. The future of the team "all depends on how much we can improve," says Cooke.
The Cavs have another chance to face off against Timberlane on May 28, their last game before the quarterfinals. Here's to hoping to continued focus in practices, a consistent determination of the players, and an upkeep in morale and spirit!