How do you like them Apples: A guide to iOS 7
On September 18, 2013, Apple came out with it's most recent technology upgrade. The company made a transition from iOS 6 to iOS 7, the newest and arguably the coolest thing to ever happen to Apple.
iOS 7 offers a variety of new features to its customers, all of which were welcomed with open arms by tech savvy iPhone owners.
The most obvious change among Apple products with this upgrade is the appearance of apps, and the basic phone layout.The new operating system is sleek in appearance and has a modern look to it. "It's amazing. I love how it zooms in and out of apps," said Megan Olson, '16.
On the lock screen, there's an easy-access control panel. With the simple action of sliding a finger up the screen, a toolbar will appear with a variety of options. In this toolbar, there is a flashlight, timer, calculator and camera available for disposal by simply tapping the screen There is also easy access to music volume level and screen brightness. In this control panel, you can also access the airplane mode, WiFi, BlueTooth, do not disturb and lock screen option.
iTunes Radio is easily one of the coolest additions to Apple's diverse features. Similar to Pandora or Spotify Radio, Apple radio takes a genre, artist or song and transforms it into hours of music you never knew you'd like.
Another cool feature of iOS 7 is the block a number feature. Who doesn't have that telemarketer that continuously calls, or that random boy that keeps calling and insisting that you're his ex and that he's sorry for everything he did to disappoint you. Well now, thanks to apple, you no longer have to deal with unwanted calls, texts or FaceTime messages. Simply just go into settings and block any number you want and end undesired calls.
If you have yet to make the change from iOS 6 to iOS 7, don't hesitate to transition soon. Olson added, "You have to get iOS 7 if you haven't already, it's sweet!" Just keep in mind, it may take awhile for iOS 7 to download, so make sure you aren't in a rush to get somewhere and it's also helpful to have your phone connected to a charging device and on a wifi network.
Leave a Comment
About the Contributor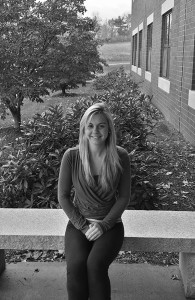 Sara Swabowicz, Co Editor-in-Chief
Sara Swabowicz is a senior at Hollis-Brookline High  School. She is a co-editor of the The CavChron LINE with Austin Bumpus; in the past she has served...