HB Volleyball Sends Off Their Seniors with a Win Against Bedford
The Hollis-Brookline varsity volleyball team picked up another win on their senior night, and hope to continue their success in the playoffs.
The Cavaliers had their senior night last Thursday, paying tribute to their five seniors. Maddy Blake, Lex Chilton, Sophie Saunders, Monika Schnieder and Bella Zampieri who were honored before the start of the game, taking pictures with family and friends and receiving applause from the crowd.
Going into the game, the Cavaliers held a 13-3 record, while Bedford was 10-6. Both teams were hoping for a win, as they hope to gain momentum going into the playoffs.
The first set got off to a slow start for the Cavs, but after falling 2-9, they stormed back evening the set at 10 all, and never looked back. HB finished the first set going 13-4 after taking the lead, resulting in a set one win at a score of 25-15.
Hollis Brookline carried their momentum into set two, continuing their strong play. They communicated well and had great teamwork which resulted in taking the first point in the set and never giving up the lead.
Going into the third set, the Cavaliers knew they could finish off Bedford with one more win. They started off the set going 6-1, and it appeared that HB would have an easy time picking up the final set. However, Bedford wouldn't go down without a fight, bringing the score to within 2, at 10-8. Hollis-Brookline tightened up, and the score was eventually brought to 24-13. Even facing match point, Bedford kept fighting, picking up two more points, until HB sealed the game with a spike.
HB currently sits at 15-3, good for 4th in a 20 team division. They are set up for an arduous playoff run, relentlessly in pursuit of their ultimate goal, a state championship. When asked what the team's plan for success is heading into the playoffs, Maddy Blake '16 said the team wants to take advantage of every opportunity, and put 100 percent into all their efforts. Even if volleyball doesn't bring a banner to HB, these senior girls are making sure they will be remembered by their successors, by giving them some advice. "Cherish every moment," said Blake. "Don't have any regrets."
About the Contributor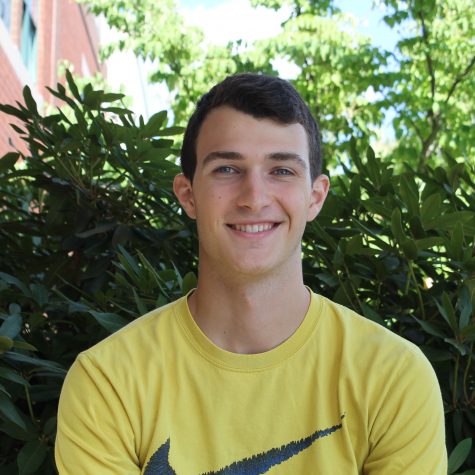 Nate Corsetti, Sports Editor
Nate Corsetti '17 has a passion for sports. He's a big baseball and football fan, and he runs track, cross country, and plays baseball for HB.. He...