A season plagued by injuries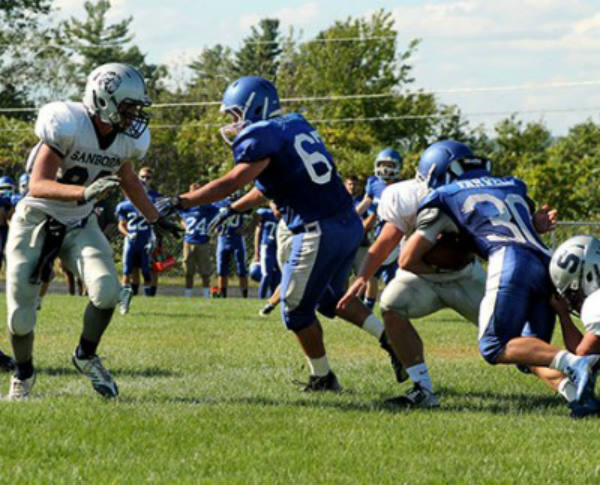 The Hollis-Brookline football team finished the 2015 season at 2-6 after losing to Monadnock 38-8 in the season finale. Due to a handful of injuries, the season didn't turn out like the team had envisioned during training camp over the summer. No injury was greater than that of starting quarterback, Joey Delaney '18, who suffered a broken arm just three games into the season.
Once Delaney went down, the team turned to their trusted backup, Tyler Bergerson '17. Bergerson played well in his time at quarterback and with his efforts, the team rallied around the new quarterback, until he suffered a concussion against Pelham, just two games after becoming the starter. After suffering this second injury at QB, the Cavs were forced to turn their untested 3rd string quarterback, JT Arnold '19, who had never played in a varsity game before getting the call.
As the season progressed, the Cavs arduously scrambled to keep their hopes of making the playoffs alive, but multiple injuries to key players proved costly. Team captain, Wyatt Farwell '16, explained how injuries affected their season, "We were a small team depth wise to start so it made a bigger impact than it normally would have and definitely impacted us negatively."  This was a disappointing run for the Cavs, who had high hopes coming into the season after playing in the Division II semifinals just a year ago.
The Cavs are already looking forward to next year's season and are confident in their group of young, experienced players.
Derek Davidson '17 was asked how the team's youth will be a positive attribute next season, "Having a young quarterback who has already started on varsity will help a lot. Our team this season was mostly juniors which will help next season."
Next year's team already has their sights set on the ultimate goal, winning a championship and hanging a banner in the gym. The Hollis-Brookline football program is still new and every year acts as a learning experience for the coaches and players alike. Next year, with healthy and experienced seniors returning, the Cavs have the opportunity to become the first team to win a football state championship.