Panera Bread Review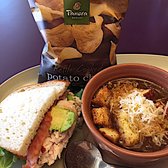 Where can you find the best bowl of soup and freshly baked goods in Nashua, New Hampshire? Right at Panera Bread! Panera serves entrees and delicious pastries all for a great price. Walking through the front door with a clean entrance way there'll be a warm welcome from all the employees greeting you at the front of the register. When walking in you'll pass the pastry display containing delectable goods such as their cinnamon rolls, freshly baked chocolate chip cookies and their decorated pumpkin cookies ready for the fall season. Panera is not a fancy restaurant, but a nice, adaptable place to sit down, eat your desired food and relax with friends and family.
At Panera Bread, any entree you choose as your meal will always have the choice of either potato chips, an apple or a piece of their fresh bread. A popular entree sold here is their broccoli cheddar soup. This contains chopped broccoli, sliced carrots and select seasonings simmered in a velvety smooth cheese sauce. This can be served in a cup, bowl or even their famous bread bowl where they hollow out the inside of the loaf and pour in the desired soup. Yum! You could also choose the "You-Pick-Two" deal and get any two entrees half the size to make it one meal.
There are twelve Panera Bread restaurants spread throughout New Hampshire so you can have an on-the-go or sit-down meal at a location near you. The closest one to the Hollis Brookline community would be located at 590 Amherst Street in Nashua. I would give this restaurant a rating of 5/5 because the service this place gives is 110%. Come pick up a big cup of their famous hot chocolate when it's cold out and stay awhile! Panera is always welcome to making your stay the best it can be. Stop by and get a full meal for less than $10 almost every time! With any questions regarding Panera Bread, contact them at 603-821-6021.