Where to get your 'Joe'
Coffee is often no less than the life-force of everyday living, especially for high schoolers. Where you obtain this drink varies according to personal taste. However, when you are craving something other than the typical Dunks or Starbucks cup (though they dominate the US coffee empire), it may be time to explore the local cafés in the area that have phenomenal java. A&E Coffee in Amherst and Union Coffee in Milford are both eager to satisfy the discerning coffee aficionado as well as provide the classic café atmosphere.
At the top of their online menu page, A&E proclaims, "Experience real coffee. Experience real tea." A trip to A&E gives you the opportunity to buy fair trade, organic, shade-grown coffee. Their specialty drinks include espressos, latte au laits, cappuccinos, americanos, cortados, red eyes, and steamers. Among their smorgasbord, they also offer gluten free snacks and mouth-watering baked goods provided by local suppliers. Across the store is a loose tea section, where you will be sure to find a new herbal refreshment to try among the colorful tins of aromatic leaves. Along with your essential white, black, and green teas, A&E carries puerh, herbal, and oolong teas for the typical tea enthusiast. A spring-time color scheme finishes off the store's ambiance with an undeniably personable touch. Though the staff at A&E seemed less attentive in comparison to the warm service at Union Coffee, it is a highly interesting and enjoyable storefront. Once you have your cup of Joe, customers are able to retreat to the loft-like sitting room to allow a space to relax, sip, and do homework!
Opened by a pair of barista brothers eager to bring high-quality coffee to communities that lacked it, Union Coffee in Milford is known for hosting open mic nights and works hard in promoting local musicians. The café boasts a unique feel with a chic, dark color scheme that welcomes you in with a distinct hipster flair. With an unbeatably friendly staff, there is plentiful sitting room, set up in a bar-stool style, and a guitar for customers to jam on while sipping espressos. Among customers, debates and discussions take place, making for an authentic café feel. Their drink list, showcasing bottomless drip-coffee (i.e the regular stuff!) also features lattes, cappuccinos, mochas, chai, steamers, and americanos. To top it off, they have homemade, organic flavor shots that range from Vanilla Lavender to Honey Cinnamon and Salted Maple. If you're in the mood for a non-caffeinated option, order tea, hot cocoa, or lemonade.  
Coffee in both joints run on the expensive side, as is to be expected with higher quality products. At Union, a small Salted Maple Latte is $4.50, but if you enjoy a well-crafted cup, it is well worth it. The Salted Maple Latte, a barista favorite, does not overpower with its sweetness, but has a truly stunning and well-rounded flavor. The stellar roast was accentuated, not drowned out, by the flavor.
At A&E for $4.80 you can get a winter specialty drink called the Snowball Latte, a white chocolate latte infused with peppermint. The flavors are a solid pairing and the drink translates well as a winter latte, even after Christmas. Though the drink was no doubt enjoyable, it lacked the smooth composition and balance of elegant flavor that Union provided.
I personally imagine that I will be making more visits to both cafés in the future. Discovering Union Coffee was a real treat, as I now have a new favorite local spot to enjoy some of the best coffee around. Try them both, and decide for yourself– no matter which one becomes your most frequented location, you're sure to get that warm-and-fuzzy feeling that comes with supporting local businesses.
Cafés have been social hubs, poetic enclaves, musical oases and catalysts for the exchange of ideas since their inception. What makes or breaks such important cultural cornerstones if not the coffee that defines them? For a few more tips and tricks to use throughout your love affair with all things coffee-crawler, check out this interactive ThingLink.
About the Contributor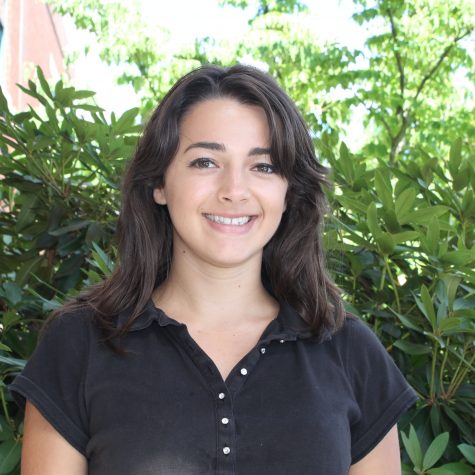 Ava Occhialini, A&E Editor
Ava Occhialini is a senior at Hollis Brookline High School, and excited to fulfill her role as Arts and Entertainment Editor for the CavChron. In her spare...