KTM or Kawasaki?
To start the comparison of two rival dirt bike makers, both must be credited with a vast amount of respect, earned over the past few decades.
Cameron Chrystal '16 owns a KTM 200cc ETC two-stroke and has owned is for the past few years.
Dustin Stenstrom '15 owns a Kawasaki 250cc KX four-stroke.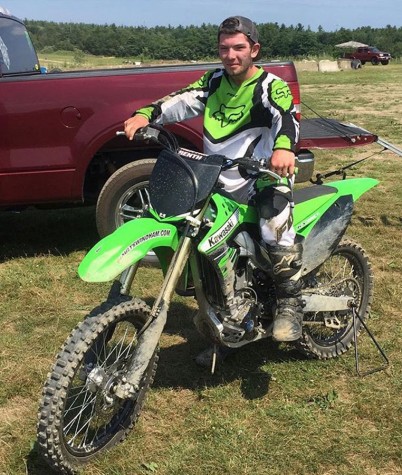 For those that don't know a two stroke runs off a mix of gasoline and two stroke oil, because the piston fires on every stroke, with no oil pan or engine oil. A four stroke fires on every other stroke, runs off straight gasoline and has an oil pan and engine oil.
KTM (Kronreif, Trunkenpolz of Mattighofen)  is an Austrian company, and has been making dirtbikes since 1934. KTM's are famous for two stroke capabilities, and beginning to try direct injection dirt bikes. KTM is famous for their racing capabilities, and high popularity due to their high quality bikes. Chrystal owns a 1998 KTM 200 ETC two stroke and loves it. It is a six speed, and is quick, because it is a race bike. It starts good, and runs even better. Chrystal says " She's quick, and the torque from the 200 two stroke wants to pick up the front end at the crank of the throttle."
Kawasaki is a Japanese, American, and Filipino company that has been manufacturing bikes since 1966. Kawasaki is a more affordable dirt bike, and is more famous for their four stroke capabilities. Stenstrom owns a Kawasaki KX250 four stroke and loves it. Stenstrom says "Although a four stroke is more costly and harder to maintain, with regular maintenance, it is easy. Four Strokes are more versatile, weather track or trails it's perfect for riding."
Both bikes are great, and according to experts and even self owners and personal opinion, it depends on the rider. KTM two strokes are more for racing and handling. The suspension is stiffer, and allows you to feel the ride and handling of the bike better, but is less for trails and cruising as it is for all out track racing. The kawasaki can handle the track as well, but is comfortable for trail riding too. Both KTM and Kawasaki come in two and four stroke, and depending on terrain rider should beware of personal ability and what he/she is using the bike for.
Kawasaki is all around cheaper, but it doesn't mean you are sacrificing quality. Both bikes are made astonishingly well, but the KTM is more of a race bike. When paying full price of a KTM, some of that is the fact you are paying for the name, and experience developed through age. Both bikes are fantastic, KTM has been around longer and is more expensive, while Kawasaki is cheaper but still a great bike, and what is really comes to is whether you prefer green or orange.