Chasing a Championship
In the final game of their 2015 season, the Cavs lost in heartbreaking fashion with a one-point loss in the quarterfinals against Merrimack Valley. The crushing defeat was tough to swallow but this year's returning players are using that experience as motivation.
Chasing a championship is a long arduous road where players endure the ecstasy of victory and the agony of defeat in pursuit of a common goal, winning a championship. The players on this year's team understand what it's like to win, but–more importantly–they know what it's like to lose, which is essential in winning.
"You learn more from losing than you do from winning," team captain Kyle Szewczyk '16 said. "We know what it's like to lose; last year's loss made us realize what it takes to win. We are a multiplayer team that can work the inside just as well as the outside."
The Cavaliers finished the season in 6th place with an 11-7 record. Their 6th seed placement earned them a first round playoff bout with the 11th seed, John Stark. Hollis-Brookline finished their regular season beating John Stark 59-31. They are confident and focused going into tonight's game.
"This year's team is much younger than last year's." Cam Chrystal '16 explained "It's great to see some of the younger sophomores step up and compete with these older players on other teams. I am excited to see what the future brings for this year's."
The Cavaliers will take the first step towards a championship tonight at 7:00pm.
About the Writer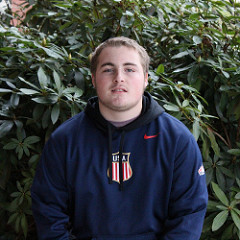 Jack Shields, Sports Editor
Jack Shields is a senior at Hollis Brookline High School. This is his second year in journalism and he plans on making the CavChron interesting and exciting...