A soup-er cool competition
On Sunday February 21, the Brookline Event Center hosted the town's second annual Chili-Soup-Chowder Cook-Off. Popular Brookline restaurants and local entrepreneurs came to the event armed with vats of their most scrumptious recipes, hoping to win over both the public and the official judges: Kevin Rowland of the Hollis Brookline Rotary, John Picinich of the Brookline Lion's Club, and Eric Bernstein, EDC. There were eleven entrants competing at the event, including eateries such as Chrysanthi's, Juanita's, Kun Garden, and The Cozy Tea Cart.
The Event Center was packed with guests not just from Hollis and Brookline, but neighboring towns as well.
"Last year we had about 100 people. We've more than doubled that this year," Gale Taylor said of the event. "We do this to promote local businesses; it's not a fundraiser. Although it did make money today because we got so many more attendees than expected."
Taylor is a member of the Brookline Economic Development Committee, which played a large role in putting the Cook-Off together.
For three hours, attendees sampled soups and chilis, recording their thoughts on a voting ballot. Then, after marking their top choice of both soup and chili, they submitted their votes (contrary to the name, there were no chowder submissions).
While soup was the main focus of the event, there was also a table of baked goodies, multiple raffles, and exceptional live entertainment provided by the local band Live Simply.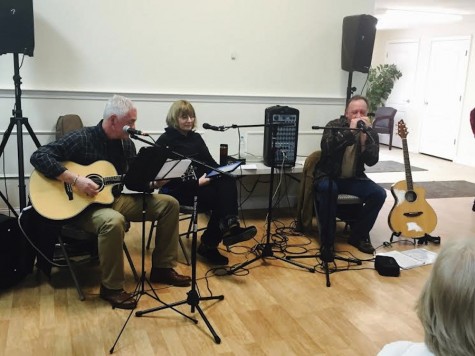 Around three o'clock, the winners in the two categories were announced.
The Alamo Texas Bar-B-Que & Tequila Bar, an upcoming eatery in Brookline, took home the gold for the chili category. The Alamo is going into the location which last hosted the Mad Hatter restaurant (also known as the former location of Side Tracks). It is set to open in June. The western barbeque submitted an insanely delicious brisket chili, and if the taste is any indication, The Alamo is going to be quite the success.
Second place in the chili category went to Skinny Tim's chili.
Mexican restaurant Juanita's defended their title and took first place in the soup category for the second time with their delicious tortilla soup. Chef Reid Services, a catering service out of Brookline headed by Chef Kalee, took second place with her delectable tomato bisque.
With the success of this year's Cook-Off, the event – and the support of our local businesses – can only grow.