The 2016 Masters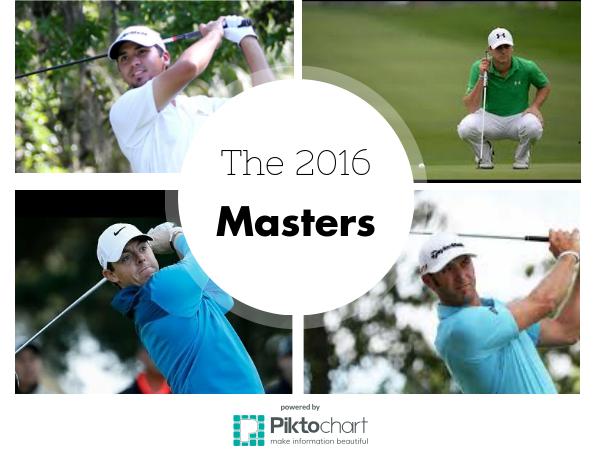 Spring is finally here, which means golf's most prestigious tournament is fast approaching. The Masters is a tournament that will last forever but has seen career's flash before our eyes. Every April, millions of people sit by their televisions to watch history be made before their very eyes, eager to see who will win the Masters.
This year's tournament is no exception, with hundreds of the world's best golfers flocking to Augusta National to stake their claim in history, anything can happen. Over the years the Masters have seen exceptional performances and nail biting finishes, but one thing remains to be seen, who will wear the green jacket.
The favorites to win this year are; Jordan Spieth, Jason Day, Rory Mcilroy, Rickie Fowler, Bubba Watson, Adam Scott and Dustin Johnson. All of these players are the young superstars of golf and all rank inside the top 10 in the world. While these are the favorites to win, there are many others who are more than capable of winning, including four time Masters winner, Tiger Woods.
Last year, Jordan Spieth became the 2nd youngest player behind Tiger Woods to ever to win the Masters. Spieth's dominance in all four days last year was the start of his remarkable 2015 season, where he won three out of the four majors while also winning the Fedex Cup. This year Spieth looks to repeat as winner and pick up where he started last year.
Newly number one ranked player in the world, Jason Day, looks to capture his 2nd major victory and first ever Masters win. He comes into the Masters red hot and recently became the world's number one golfer after a win at the Arnold Palmer Invitational. A win at Augusta will further cement him as world number one.
Rory Mcilroy looks to break his Masters curse this year and wear the green jacket for the first time in his career. Mcilroy is a former number one ranked player who has won four major tournaments but has yet to win at Augusta. It seems that Mcilroy has centered his 2016 season around winning the Masters and completing the major's grand slam. Rory's best finish at the Masters was a 4th place finish last year.
No matter what happens this year at the Masters there's still one thing you can count on, history will be made.