A new addition to the school
HBHS Spanish teacher Mrs. Robbins (formerly known as Sheehan) and her husband Joe Robbins welcomed Layla Joy Robbins into the world at 8:53 p.m. on Friday April 15. Baby Robbins is 7 pounds and only 20 inches. Robbins left school early in the morning on Wednesday April 13. her friends, family, and students have been eagerly awaiting the news.
Courtesy of the Robbins
Robbins announced her pregnancy back in October. For Halloween, she dressed as a skeleton, with a baby skeleton painted onto her stomach as a hint. The costume, which Robbins made herself, happily surprised many of her students. "I thought her Halloween costume was such a creative way to announce her pregnancy!" said Jenna Swabowicz '17.
In addition to teaching, Robbins is also the girls softball and winter bowling coach. "I am so excited for Sheesh," said Miranda Moscatelli '17, one of the athletes on the softball team. "She is going to be a great mother."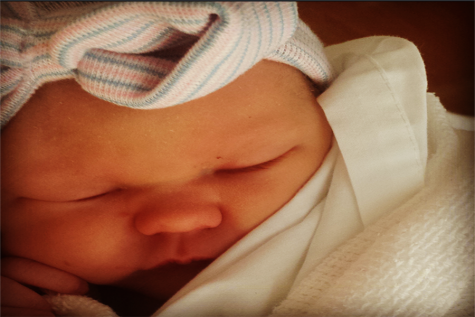 Courtesy of the Robbins
Paige Gionet '17, on the winter bowling team, was very happy with the news of baby Layla. "[Mrs. Robbins] is a really great bowling coach," said Gionet. "I can't wait for the baby bowler to cheer us on next season!"
Robbins took a picture of her reflection in the mirror every week so that she could watch the changes take place. The pictures below are were taken when she was 20 weeks (pink shirt) and 28 weeks (striped shirt) pregnant.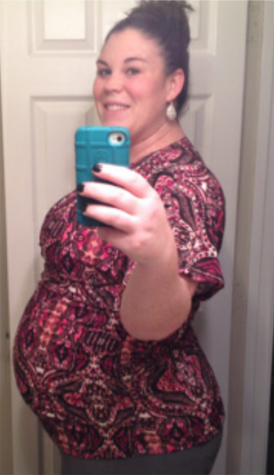 Courtesy photos from Erin Robbins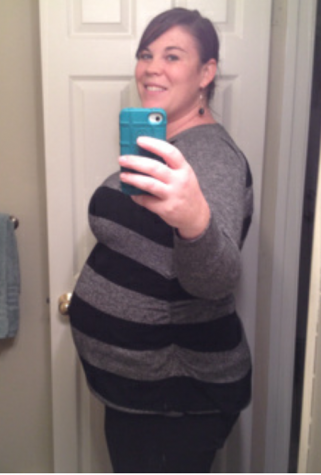 While she is disappointed that she is missing the Spirit Week festivities, Robbins and her husband are doing well and are excited to start parenthood. "[Layla] is cheering you all on (in her own quiet way)!" said Robbins.