Sophomore Games Night
On March 16th, the HBHS Class of 2018 participated in a fundraiser called the "Sophomore Games Night." The goal of the night was to allow member of the sophomore class to meet fellow  students in a comfortable setting and hopefully create some new friendships.
After paying a five dollar entrance fee, students were offered various games and snacks for free. The games contained those from a mix of generations, from the Nintendo Wii and Xbox games to popular card and boardgames, such as "Apples to Apples" and "Othello."
James Surrette '18 recounted that the chess club decided to travel to the event since Games Night was  held on a Wednesday (the same night that the chess club meets on). The club attended Sophomore Games Night, adding to the other students that had already shown up.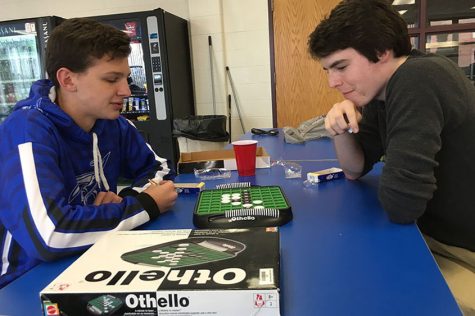 Logan Collins
Matt Simco '18 explained that he attended the event because "My friends [were] going." Matt also stated he didn't mingle too much with the other groups, as "I prefer to stay with the people I already know."
The sophomore class stayed true to their more modernized standards, with the video games being the highlight of the night. However, none of the other games that made a showing were neglected.
Overall, the night was a success. It allowed students to meet up and raise $94 for the sophomore class as well.