The roommate dilemma
The dilemma students find themselves in is whether or not they should do random selection for a college roommate or not. They come across this country-wide problem the day they start applying to colleges.
Some people like Cam Tulley '16, who will be attending Endicott College in Beverly, Massachusetts will be doing a semi-random selection for a roommate. The selection process is considered to be semi-random because he plans to fill out a compatibility survey. Peter Traver '16, will also be doing the same thing, and says he is "Excited to see the outcome of their selection."
These compatibility quizzes vary completely. Some schools pick your personality apart to try and find you the perfect match, while others barely even ask you about yourself, and more or less just make sure neither parties get stuck with someone who has a major food allergy when they do not. Tufts University takes a different approach. In their survey, they ask about your music interests, because they feel that you can really get an idea of someone's personality through the music they listen to.
Tulley '16 and Traver '16 both agree that  "not finding and choosing your roommate, and instead having a randomly selected roommate is all part of the college experience. It puts you out of your comfort zone and teaches you to adapt to new obstacles and those around you."
Others argue differently, and say that choosing their roommate and possibly rooming with a friend is a must. Andrew Bisbee '16 will be attending UNH, and will be rooming with his close friend Oliver Fetter '16. He said the reason for not doing random selection is: "I can now comfortably say that my roommate and I will get along, seeing that we've been friends for a while."
Here are some pros and cons of rooming with or without a friend, brought to you by Niche:
| | |
| --- | --- |
| Pro | Con |
| You open yourself up to an entirely new experience. | You have no idea what you're getting into. |
| Rooming with someone you know can ruin a friendship. | You may be completely opposite from your roommate. |
| It teaches you how to live with someone new and respect their space. | If your roommate doesn't respect you, you may spend a lot of time outside of your room. |
Sometimes the roommate situation just doesn't work out and there's not much you can do except wait for the next year to find a new one. Cody Snow '16 told about a situation with his sister similar to this. His sister, Maddy Snow '14 ended up picking a friend for her roommate, and they just didn't get along like they thought they would. So she suggested he do random selection, or maybe fill out a survey.
Other times, it may be as simple as not knowing any friends attending your college. Will Kingsley '16 found himself in this situation: "I'm doing random selection because I don't know anyone going to my school next year." He will be studying at Union college in New York.
So what are some pros and cons of rooming with a friend? One major pro that comes to mind is that you know each other, so you will generally know what to expect. But sometimes, being friends with someone and living with them are two completely different situations. The downside to this is that if your roommate is a high school friend, that might prevent you from growing as a person, and differentiating yourself from your high school tendencies.
Like all college decisions, you must keep in mind what you want to get out of college, and how your choices can affect you for the rest of your four years, possibly affecting the rest of your life.
About the Contributor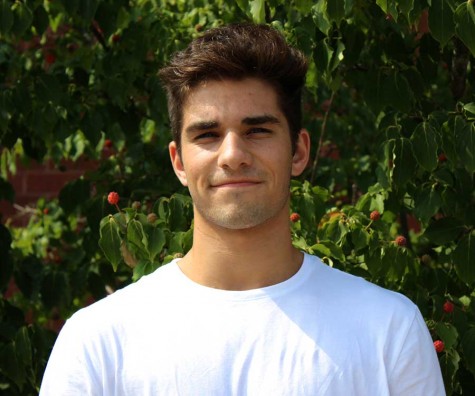 Ben Lombardi, Staff Writer
Ben Lombardi entered his senior year knowing it was going to be a good one. With college rounding the corner, he knew the first half of the year would...