Amanda McDonough makes strides in HB's track and field program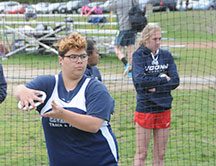 After failing to make the softball team in middle school, Amanda McDonough '16 turned to the track and field team where she discovered shotput and discus to be her true passions. She is now being scouted by 46 colleges for her athletic skills in these two events.
McDonough set records in both of these events this Spring, with  with 33 ½ feet for shot put and over 90 feet for discus. She is glad to have graduated having achieved her goals to become the athlete she wanted to be.
"It is just the right amount of frustration," McDonough said, then continued to go into to detail about how, if she did not do well in a meet, the ensuing frustration would motivate her to practice harder. If it's true that you get what you give, then McDonough has been compensated for her hard work and has received even more for her efforts: her athletic skills are part of what got her into college.
About the future, McDonough said, "I mean it got me into college, so I will probably play it through college then probably be done with it." Out of the many opportunities McDonough was offered, she will be taking her talents to Newbury College in Brookline, Massachusetts.
Failure may have been what got Amanda into shotput and discus, yet it became what motivated her to be the best at it. McDonough's record-setting success in countless meets has made her mark on HB's Track and Field program.