HB Welcomes Colombian Transfer, Karen Gomez Blanco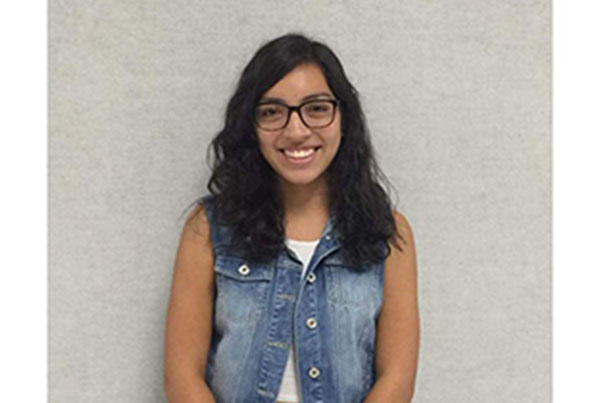 Imagine walking the halls of a completely new school, unfamiliar faces all around you. Your past has given way and you're swimming in a sea of strangers. There is a continuous hum of high school chatter filling every hallway, and it's all Greek–or English– to you.
Starting fresh at a new school is a terrifying experience for any student, but Karen Gomez Blanco '18 faces a compounded version of this challenge. She is a Colombian teenager and transfer student this year. However, Gomez is at a much greater disadvantage than most new students: she doesn't speak English.
"We want to know what your life was like before moving," we asked Karen in her native tongue.
"It was great [in Colombia] because everyone spoke Spanish," she said with a nervous laugh.
A junior in high school, Gomez and her family packed up their home in South America and moved to the small town of Hollis about a month ago. She describes her family as very close-knit. Gomez is the oldest of three siblings, and although she's spent most of her life in the coastal city of Barranquilla, she lived in the country's capital city, Bogota, until she was five years old.
In Colombia, she recounted with fluttering hand gestures, the school system is very different. Classes are larger on average, all of her teachers taught purely in Spanish, and Karen's school had no English courses–something she sorely wishes had been different now that she's in the states.
The Gomez family moved to the States spontaneously to seek better opportunities for Karen and her siblings. Gomez is eager to learn English and can't wait until she is finally able to decipher and participate in the conversations happening all around her. When others speak with her in Spanish, she is grateful, but she feels strange having to speak slowly and loudly so that others can understand her.
"I'm not used to screaming," she said jokingly.
Gomez has tentative plans to join a Spanish III class twice a week, but her schedule is still up in the air. Gomez is self-described as timid, but readily engages in conversation when prompted. She enjoys running in her spare time, and hopes to start participating in sports once she gets settled and has a better grasp on English.
During her lunch period, Gomez enjoys learning new English words and practicing her pronunciation with students who take Spanish here at the high school. Her drive for learning reflects a promising future for her life both at Hollis Brookline and in her new homeland.