HB volleyball sets out to defend title
Coming off of a championship season, the women's volleyball team set themselves up for very high expectations for this season. In an exciting five set match against Bishop Guertin High School last fall, the Cavaliers took home the Division 1 state title in a thriller. The team featured many seniors, and all of them were key in their championship run. Without that group of athletes this season, it would be understandable for the team to regress from last year's success.
But that hasn't troubled this year's team in the slightest. They've been at the top of their game all season, starting this year off 6-1. They've been so dominant, in fact, that out of the 25 sets they've played, they've lost only five.
The team credits its success to their hard work. They came into the season well-prepared and are now reaping the benefits. "We had a very long preseason and worked very hard," said Kaitlin Johnson '17. "We had three hour practices over the summer and have been practicing six days a week."
The team has found success in some players who have stepped up to fill the roles of last year's seniors. "Sammy Shepard '20 and Kaleigh Whalen '20 have really stepped up this year," said Katie Connors '17. "They are our two freshmen and they've really been a big part of the success this year."
The leadership roles from last year have been also been filled. "Rachel Bill has really stepped up as captain and is a leader on the team," said Johnson. "She's filled Maddy Blake's role from last year."
With more than half the season yet to be played, anything can happen the rest of the way. Their schedule has them set to play Concord and Bishop Guertin in the coming weeks, which will be big matchups for the team. Concord is currently Division 1's top team, while HB and BG are tied in the standings. A championship rematch will surely have both teams playing their hardest, as HB hopes to defend their title, while BG tries to show they can hang with the champions.
As of now, HB is tied for third in the Division 1 standings. However, there is only one win separating them from first place, so the team is right in the hunt. The team is working hard and are staying focused on the goal of another championship. "We want to win again," said Connors. "Definitely."
About the Writer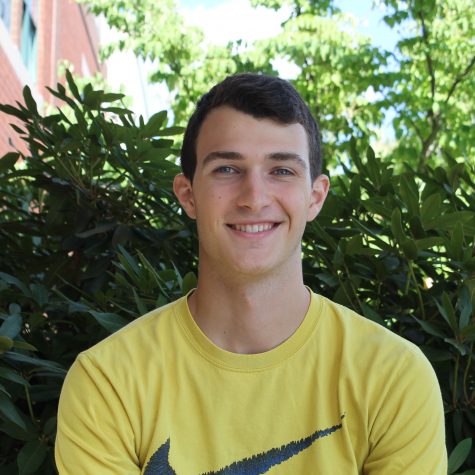 Nate Corsetti, Sports Editor
Nate Corsetti '17 has a passion for sports. He's a big baseball and football fan, and he runs track, cross country, and plays baseball for HB.. He...