Homecoming a "smashing success," say senior class advisors
Hollis Brookline's Homecoming Dance was a great time had by all. With the changes in attire, from costumes to semi-formal, attendance skyrocketed at the dance on Friday, September 24.
Not only did everyone look fancy, but the music was terrific. DJ Buckles, a new addition to the event, was reported to have been a hit.
"He was good, and played a variety of music," said Kelly Willett '19. Many concurred that they appreciated hearing their requests this time around, as opposed to the past. To top off the fun, Buckles played Christmas music at the end of the night. The DJ said the reason for this was to get people to leave, but some stayed, phone flashlights out, swaying along to Bing Crosby.
As few would expect, DJ Buckles was not a professional DJ. He was actually Nathan Buckley, a  senior at HBHS. He was so happy to help raise money for the senior class by contributing the music.
Originally, Buckley brought in his own playlist, but when he said he "had over 30 requests by the first hour," he only played those the rest of the night. Buckley had a great time and he thanks all of those who enjoyed his DJ-ing.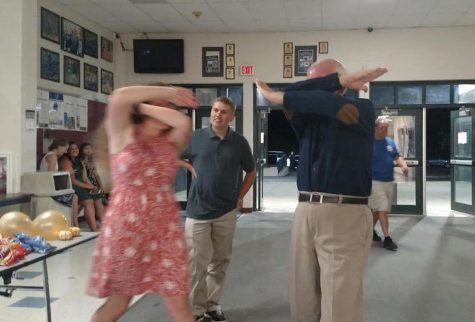 A group of female students noted that they loved getting ready before the dance, such as buying dresses, doing each other's hair, and just hanging out. They loved the new changes and would recommend to everyone who didn't attend this year to make it next fall.
The senior class at HB would like to give a special thanks to teachers Becky Balfour, Erin Sheehan-Robbins, Amanda Zeller, Claire Paré, and Michael Fox, for spending their Saturday night at a high school dance, and especially to DJ Buckles, who declined payment so the senior class would make more money.