Introducing new teachers
As the 2016 school year starts here at Hollis-Brookline High School, three new teachers and one administrator have been welcomed into the community: Heather Deegan, Gregory Parker, Audra Saunders, and Ass't. Administrator Amanda Zeller.
Amanda Zeller is the new assistant administrator at the school. She wanted to work at HBHS because she feels that the majority of students are good people. "Mr. Barnes is one of the reasons I started working here…I worked with him before when I first started teaching,"  she said.  Zeller puts forth hard work to make the school a safe and fun atmosphere.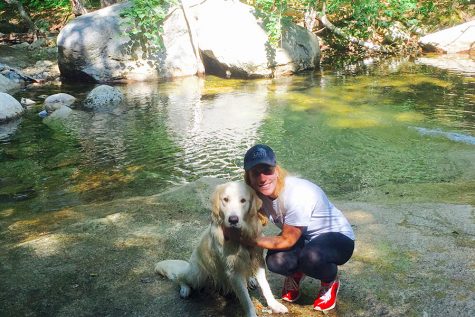 Heather Deegan is a hard working teacher here at Hollis-Brookline High School in the English department. She teaches Journalism and freshman English.  In her free time, said Deegan: "I like hanging out with my puppy Gatsby, hiking, camping, and being outdoors." She enjoys working at HBHS because the students and staff are so welcoming.
Before coming to our community, she went to college at the University of New Hampshire and studied journalism. She later decided to switch her major to English as well as receiving her master's degree in education at UNH. "This school has a very good reputation and a great feeling of community," she said of Hollis Brookline.
Her seventh period art class, says Audra Saunders, is caring and has a great sense of humor. Saunders teaches Fundamentals of Art along with photography classes. She explains, "I enjoy doing boy things with my two children." In her free time she paints, takes photographs, swims, and bikes. She stated that she decided to work at HBHS because, "I heard good things about the students and staff along with looking at reviews on the school." She feels that HBHS offers a more relaxed atmosphere and different vibes than other schools she has taught at.
Greg Parker is a new addition to the Hollis Brookline history department. In addition to teaching history, he co-directs the high school's theatrical productions alongside choir director Matthew Barbosa.
"I was told it would be silly to not take the job," Parker said of moving from Hollis Brookline Middle School to the high school. Before coming to the Hollis school district, he previously taught at Oyster River and is glad to be working here at the High School.
In addition to education and theatre, he enjoys learning new languages and reading books. Parker describes himself as energetic, outgoing, and boisterous. His favorite aspect of the high school? "It invigorates [me]," he said. "It never gets old."
Hollis Brookline High School welcome these staff and are lucky to have them.