Born Bright by C. Nicole Mason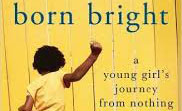 Born Bright is an account of C. Nicole Mason's own journey as a young black girl who escapes poverty. The book is already a popular HB read, having been the Book Club's first selection of the year. I was intrigued by its true-story, rags-to-riches hook, and it promised to be a memoir of grit and determination.
The book opens with Mason as an adult, about to give a dissertation. Reflecting to herself, she wonders why she was able to leave her impoverished roots behind when so many are stuck in the cycle of poverty. In her speech, she suggests that systems are the problem- the systems that systematically keep low income African Americans from the "American Dream." She meets with resistance for this stance. Her ensuing memoir illuminates just how much of an uphill climb it is for those born at "the bottom of the ladder." The characters are unforgettable, and Mason exercises a graceful command of prose that makes it easy to get lost in her writing.
With the recent racial tensions and tragedies in our country, this book is a wonderful compliment to understanding what it means to be black in America, especially if you have already read The Other Wes Moore by Wes Moore or Between the World and Me by Ta Nehisi Coates here at HB. Mason provides not only an inspiring, eloquent story, but a valuable chance to understand the world beyond our own sphere.