Coffee with a cop
On Thursday, December 1, the Hollis Police Department hosted Coffee with a Cop, a monthly event held with the Hollis senior citizens to better the department's relations with the community. The event was held at Lawrence Barn from 12-1:30 p.m. Lt. Joe Hoebeke is in charge of the event and said, "the police department hosts this event so the seniors know there is support." Hoebeke added, "we're devoted to helping."
While Coffee with a Cop is held to better relations with the seniors in town, the Hollis Police also like to inform them of important things the seniors need to know. At the meeting on Thursday, Lt. Hoebeke explained to the guests the danger of phone scams, which has been recently affecting seniors in the area. Andy Seremeth, a Vietnam veteran, said he "enjoys how the officers talk to them about things going on in the community."
There was an open forum for discussion and Don Ryder explained that he was going away, and asked one of the officers if it was better to keep his blinds open or closed. Lt Hoebeke recommended to the seniors that if they will be away for an extended period of time, to call the department and they will periodically go check on their houses to ensure that everything appears normal.
Some of the seniors commented on the lack of attendance at Thursday's meeting, but said there are usually more people there. One of the seniors also mentioned that it would be nice to eventually have more high schoolers stop by. They hope to have the time to spread their wealth of knowledge with the younger generations by telling them stories from their past.
While at the event, Lt. Hoebeke announced that the department would be hosting a toy drive for the Children's Hospital at Dartmouth-Hitchcock (CHaD) for children who will be spending the holidays away from home. The department will be collecting donations of new toys. At this time, gifts can be dropped off at the Hollis Police Department or the Hollis Town Hall. December 18, 2016, will be the last day they will accept gifts (http://www.hollisnh.org/police/).
About the Contributors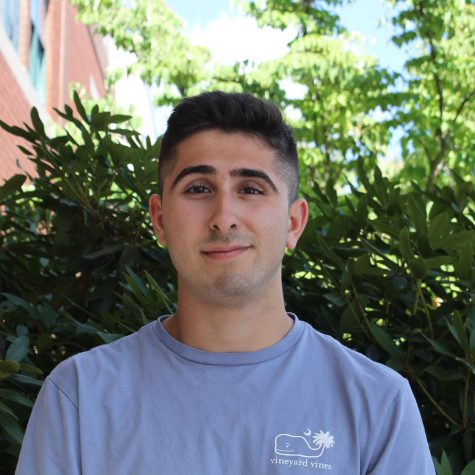 Mario Barassi, Assistant Sports Editor
Mario Barassi, '17, is a sports enthusiast. He enjoys playing catcher for the varsity baseball team, and loves to watch the Patriots on the weekend. Along...
Connor Harris, Staff Writer
Even though he is a late addition to J-Crew, Connor Harris is looking to do all he can to provide great stories for the Hollis Brookline High School Community...