Kyra Belden secures her 1000th assist
Kyra Belden '19, one of the Girls Varsity Volleyball captains, secured her 1000th assist of her HB career while playing Manchester Memorial on September 28. Belden began racking up assists her freshman year when she made the varsity squad in 2015 as the team's setter. Making First-Team Allstate her Junior year in Division I volleyball, Belden established herself as a talented athlete. Belden committed just this past summer to play volleyball for Assumption College beginning her freshman year in 2019.
In order for a player to get an assist, one has to pass the ball to a teammate, who attacks the ball for a kill. A kill is when a player legally scores a point. In the game on September 28, Belden set up her 1000th assist to Maddie Norris '19 who scored the point.
"It makes me feel very proud of all the work that I have put into the sport and thankful for those I get to play with, and the time that I get to spend on the court in games," said Belden. Playing a different position her sophomore year, Belden was not sure that 1000 assists would be an attainable goal as she was unable to secure many assists as a defensive specialist. "As a sophomore, not knowing that I'd get here because I wasn't a setter, I wasn't sure what my future entailed. Defensive specialist was my position sophomore year and setter so I only got 70 assists, therefore it didn't seem as achievable," she said.
However, when her junior year came around, she was approached by Jake Balfour, Assistant Coach, who told her that she would hit 1000 by her senior year. Belden was unaware of how close she was to 1000 assists. "It has not been something that's been on my mind since senior year because I never knew if it was a achievable goal or not," she said. When the time actually came, she was very appreciative of all the help that she received from her teammates. Belden's accomplishment has been appreciated by her teammates and she has gotten a great deal support from it. "It's an amazing accomplishment and she's worked so hard for it," said, right side hitter and four year teammate, Elizabeth Atkinson '19.
Knowing that volleyball is not an individual sport and it takes a lot of teamwork, Belden recognized her fellow players and was grateful for the help that they gave her. "I'm thankful for whom I get to play with and the time that I get to spend on the court in games. I also understand that it really wasn't just me it was a combination of all the hitters that I have played with all four years," she said. When HB gets a kill, she self-effacingly states, "It's not me doing the work it's the hitters. So I can set a bad hit and someone can get a kill out of it and that's where the assist comes from."
Belden humbly accepted this accomplishment as one of her own and was grateful for all of the help she received in reaching this milestone in her career. The hard work she put in paid off as she committed just this past summer to play volleyball for Assumption College beginning her freshman year in 2019. She continues to help her teammates keep their undefeated 2018 season record. Congratulations Kyra, from all of us at Cavchron!
Their last home game is Friday, October 19 versus Londonderry at 6:15pm. It will be their senior game.
About the Contributor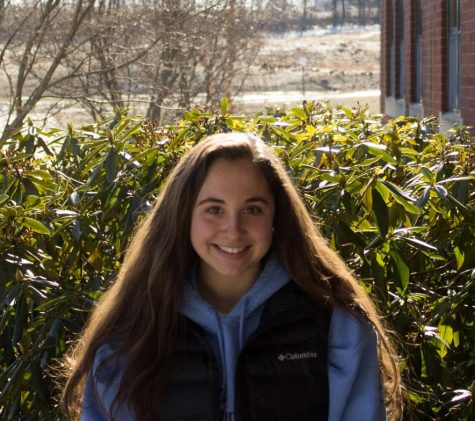 Sofia Barassi, Sports Editor
Sofia Barassi '19 is the head sports editor for the Hollis Brookline Cavchron. She enjoys playing field hockey, basketball, and softball at HB. Sofia...