HB basketball star emerges and now all the girls are in love with him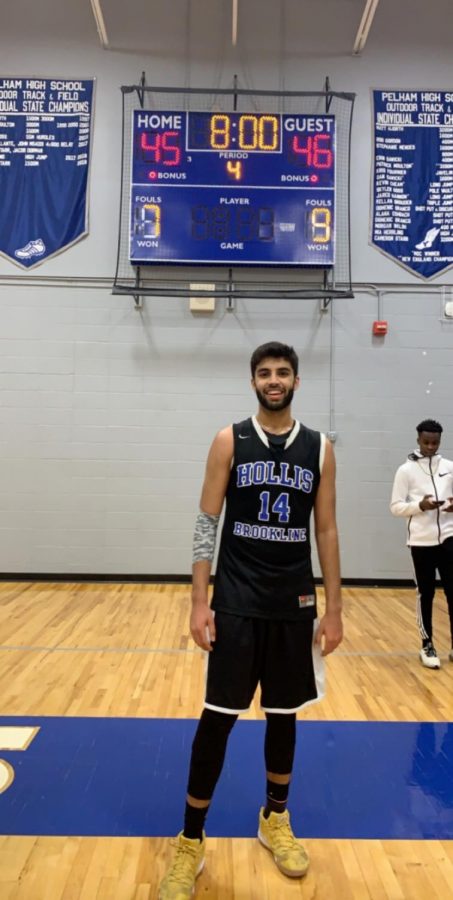 On Wednesday, March 6, the HBHS Boys Basketball team traveled to Pelham High School to play in the preliminary round of the NHIAA Division II tournament. Coached by Cole Etten, the team headed into this game knowing it was going to be a tough matchup. "All we were concerned about was what we were capable of doing and sticking together as a team," said Etten.
With Pelham being the No. 4 seed and HB being the No. 13 seed, it was clear that they would have to work hard to come away with the win. HB's last matchup in the regular season against Pelham was just as close as the most recent matchup with only one point separating the teams at the end. On Dec. 21, 2018, our boys held onto the win with a 58-57 score.
However, last night was not the same. Trailing by eight points almost the entire game, the HB boys never took themselves out. With about 30 seconds left, HB trailed by five and needed six points to pull off a win. "The strategy at that point was that we wanted to steal the ball first, foul and then to score quick," said Etten. Dhruv Miglani hit a three-point shot to make Pelham lead only by two points with half a minute still left obeying what Etten envisioned.
After a timeout called by HB, both teams were in foul bonus and Pelham was at the line for a one and one foul shot. Pelham missed,  keeping the score 45-43 and, luckily, HB secured the rebound with only 20 seconds left on the clock. Urgently, HB pushed down the court, needing two points to tie and three to win.
With an inbound play occurring, HB now had 10 seconds to get a shot off, still two points shy of the lead. Crisp passes lead to Max Staplefeld '20, who tried to get an open shot but couldn't find the right grove. Next, Grant Snyder '20 had the ball and passed it off to Dhruv Miglani '19 who was, already, four for five at the three-point line for the game. Miglani saw his opportunity. He pulled the trigger on a baseline three that rolled off his right hand in just the right way. With only two seconds left, Miglani swished the game-winning shot that extended HB's season to the quarterfinal round of playoffs by one point. "This was quite possibly the best moment of my life," said Miglani.
The student section rushed the court just as the buzzer went off and the screams were booming in the Pelham High School gym. Not to mention, the female section was not shy of Miglani as they entered the court. Catch the boys playing at Merrimack Valley High School on March 9 at 1 pm for their quarterfinal game.