Games and results for: April 29-30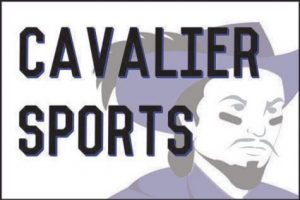 Results from Monday -April 29th :
The Girls Lacrosse team picked up their 5th win in a nail biter against Winnacunnet. Kelsey Sweeney (4 goals, 1 assist) , Paisley Broadhurst (4 goals) Tasha White (3 goals) , and Abbey Magnuszewski (7 draw controls) showed great composure, skill, and effort on the offensive end. Rachel Cerato added to the offense with an impressive goal of her own. Olivia Valentine was again a rock in the goal saving 11 shots. Caroline Smith, Nicole Heiter, and Ellie Maxwell's defense helped the Cavaliers come back from a half-time deficit.
The JV Girls Lacrosse fought hard and tied 6-6 with Winnacunnett on Monday night. Emma Ruvido kicked the game off with the first goal giving HB the lead. Followed by Hallie Bardani scoring 2 goals, and AnnMarie Tremblay, Morgan Broadhurst and Sophia Walle each putting a goal in the net. Lydia Daskolas and Meghan Flannery held their ground, combining 8 saves. Hallie Bardani lead the team with 5 draw controls, with Ari Friedman, Sarah Dryer, Morgan Broadhurst, and Sammy Atlas each getting 1. The team played their hearts out and kept the lead until the very last minute.
The Girls Tennis team lost to Bishop Brady, 5-4.Congratulations to singles winners Samantha Randlett, Samantha Morse, and Hannah Escandon . Doubles team Weimer and Escandon were winners as well. Samantha Morse and Natasha Ferro playedvstrong, losing 7-9.
Games for Tuesday – April 30th :
Varsity Baseball /Softball host Manchester West at 4pm
Volleyball host Goffstown, jv at 4:30pm and V at 5:45pm
Track at Sanborn, dismissal at 1:45pm , bus at 2pm ,meet at 4pm
Reminders :
Team photo day, Thursday May 2nd after school.Teams should meet in the back lobby.