Two years since Mr. HB: inside its spicy demise
This month, Merrimack High School will hold its annual Mr. MHS show. The ironic all-boys beauty pageant is a largely attended event at the school and is celebrated by students and teachers alike.
"It's definitely one of the biggest events of the year," said MHS student Macie Shaw '19. "It's literally like a John Mulaney stand up show, only funnier because all the jokes are making fun of our high school."
Once upon a time, Hollis Brookline High School had their own version of the commonplace high school event. Mr. HB was one of the most attended fundraisers each year, usually matching, if not displacing, our current most popular event: Guitar Night. Perhaps the most attractive thing about Mr. HB was the fact that it truly belonged to the students. Administration filtered its content to an extent that still allowed Mr. HB participants to produce content which truly catered to the student body. It was a celebration of refined HB culture.
Back in 2017, Mr. HB had a substantial anticipated turnout of supportive students looking for laughs. As the auditorium gradually filled with its buzzing attendees, the ten contestants — one freshman, two sophomores, three juniors, and four seniors — prepared to take the stage. They had rehearsed for weeks, groomed by the Junior Class Student Council and approved by administration. The boys were prepared to give it their all to win the prolific title of Mr. HB 2017.
The night was expected to have some bumps along the way, but some of those bumps turned into mountains.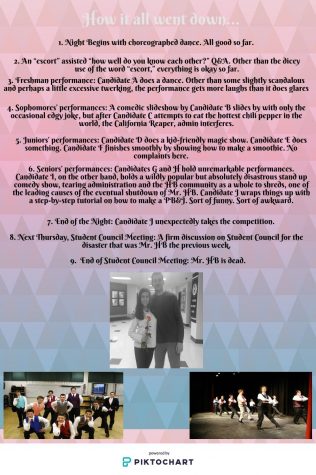 The first of these mountains came in the form of a chili pepper, as presented by Sophomore contestant Rob Bardani '19, assisted by friend Zaki Quereshy '19. In the talent portion of the show, Bardani and Quereshy attempted to eat the hottest chili pepper in the world, the California Reaper. According to the Huffington Post, eating such a pepper may cause "health problems like shortness of breath, vomiting, seizures and, in a few extreme cases in children, death." Administration rushed onto stage to prevent potential disaster, but by then, Quereshy had already taken a solid bite. Although Quereshy was still alive and well, and actual contestant, Bardani, never even got to take his bite, administration was fairly shaken up, and Bardani was a little upset. He was just trying to be funny, of course.
"Everyone just wants to have a good time with some laughs," said a chuckling Bardani. "They should lower their restriction a bit."
Quereshy, on the other hand, seemed to be quite content with his Mr. HB experience.
"I can say my Mr. HB 2017 was one of the best experiences I have had in high school thus far," Quereshy said. "Though my time on-stage was rather short and sweet, or should I say deathly hot!"
On that note, he does remember the pepper to be on the spicier side.
"Upon ingestion of the infamous Carolina Reaper pepper, I got ready for the thermonuclear war that was about to occur in my mouth. Boy, was I wrong… My immediate impressions weren't too bad. It kind of tasted like milk to me," Quereshy recalls. "However, our principal had our act end early. For the duration of the show, I was left in my original seat with no milk, only water. For the next 45 minutes, my sinuses and mouth were left in seething pain." He has since recovered.
After the California Reaper scandal, things appeared to be going smoothly. The Junior acts were much less daredevil than Bardani's. After all, administration only needed to avoid two things: dangerous and offensive behavior. Maybe a dangerous act had attempted to enter the playing field, but nothing necessarily offensive had occurred… yet.
Here, it's important to note that administration does everything it possibly can to keep both towns, Hollis and Brookline, as one community. It has attempted to completely destroy common, town-specific stereotypes perpetuated through small jokes made by students. It does a pretty good job of it, too — students tend to see our school sharing one common, HB culture rather than one Hollis culture and one Brookline culture. But there was no stopping a senior contestant from taking the stage that evening and rehashing every stereotype in the book.
With divisive jokes about "Hollis kids" and "Brookline kids," numerous pokes at teachers that went just a little too far, and, perhaps worst of all, unwarranted cussing, the contestant received laughs from students, but death glares from parents and teachers. He only got around five minutes into his act before being escorted off the stage.
The crowd was already riled up, so there was little Junior Student Council could do to get everyone back on track for the rest of the show. The night ended sort of suddenly, with the final contestant, Nick Vertullo '17, taking the title and cash price for his tutorial on how to make a PB & J. While he reveled in his success, Junior Student Council feared repercussions from the rambunctious show, and they were right too. At the following Grand Council meeting, Mr. HB was canceled indefinitely.
There were a few attempts made by Student Council to bring it back this year, mainly because the event was extremely lucrative. According to Ava Occhialini '17, Mr. HB 2017 raised $4,000 for the Junior Class. Christina Brown, then-advisor of the Junior Class, sympathized with current Junior attempts at fundraising.
"The lack of Mr. HB, I would imagine, is causing the Junior Class a lack of fundraising," said Brown. "And it's probably making them think harder for new ideas [as an alternative]."
Nonetheless, Principal Rick Barnes has been emphatic about never bringing it back. However, it wasn't just these students, these "mountains," that caused the ultimate death of Mr. HB; whether it was 2017, the year after that, or the year after that, the discontinuation of the show was inevitable.
Student Council didn't originally plan it out to be this way. Mr. HB was once a place to reveal hidden talents: a football player once took the stage to play the bagpipes, a skill of which many members of staff and students alike had no idea he possessed. But, over time, it strayed from this positive celebration of student aptitude as contestants began getting more and more edgy with their acts, each year trying to one-up the last. Thus, the demise of Mr. HB can't be pinpointed on any of the 2017 contestants, because it was really multiple years of Mr. HB pushing the envelope too far until it eventually tore for good.
On top of that, kids had accepted the most offensive and most dangerous parts of the show as its defining characteristics. This culture of acceptance was the true reason for the show's termination. On top of that, Principal Rick Barnes didn't think it really celebrated HB culture. It actually made the HB community out to be more ill-mannered, more immature than it actually was.
"You have to think about the people who bring kids to it, what kind of messages we send those kids," said Barnes. "It just was not the best example of what the school does when you look at the musical, Guitar Night, all the different things we do."
Still, students would love to see it make a return:
"It was a fun way to bring our school together," said Angelee Gagnon '20. "I had a good time and I met new friends."

"It was a tradition for me," said JJ Fiore '19. "It was the funniest thing ever."
The chances of such a return? Very slim. Closer to impossible.
As alternatives, he suggests a talent show, which could be similar to Mr. HB, but rid of the negative connotations that came with the pageant itself. Or, if you're looking for something fun to watch, the Guitar Night is hitting the stage Friday and Saturday night. If you're looking for Mr. HB, though, you're never going to find him.