Games and results for: May 22-23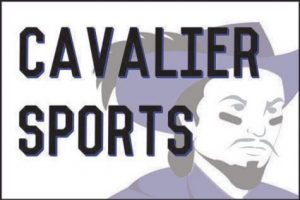 Results from Wednesday – May 23rd :
The Baseball team improved to 13-2 with a 2-0 shutout over the ConVal Cougars. Junior Henri Boudreau pitched 6 shutout innings scattering 6 hits and striking out 5 for the win.  Sophmore Brandon Hsu pitched the seventh striking out one for the save.  Seniors Joseph Messina and Max Mello both went 2/4 with a double and an RBI each.  Junior Grant Snyder went 2/4 scoring both of the Cavaliers runs.
The  Girls Lacrosse team won 14-2 over Spaulding to improve to 13-1. Victoria Bruzik led the team with 4 goals and added an assist. Paisley Broadhurst put 3 into the back of the net, putting her at 97 career goals. Abbey Magnuszewski, Tasha White (1 assist), Nicole Heiter, Rachel Cerato, Kaitlyn Castriotta, Hallie Bardani, and Kelsey Sweeney (4 assists) rounded out the scoring with a goal each. Olivia Valentine saved 4 shots. Payton Arborgast, Allie Wood, and Mackenzie Jusczak played an excellent game in their first games with the varsity team
The Volleyball team improved to 10-4 with a 3-0 win over Londonderry. Match scores were  25-11, 25-6, and 25-11. Top performers were Mike Moscatelli 6 aces 4 kills,Felix Yang 4 aces, Owen MacMillan 2 blocks and Jack Sinclair 1 dig.
The Softball team improved to 9-6 as they erupted for a 17-hit attack in a 15-2 victory over ConVal. HB  had seven players with multiple hits on the day (Kara Lukovits, Cassidy Pigott, Skylar Mack, Delayni Kovalchek, Jess Hubert, Abi Blasi, and Kylie Krivis). Ally Johnson pitched a complete game for the Cavs with 6 k's on the day
The Boys Lacrosse team fell to Winnacunnet , 9-8, in overtime. The 11-2 Cav's were led by Joe O'Reilly with 3 goals and 1 assist, JJ Fiore with 2 goals and an assist while Joe MacDonough, Blake Bergerson and Jon Kroposki each tallied one goal. Scott Walsh made 9 saves in goal.
The Jv Baseball team defeated ConVal 11-3 thanks to strong pitching and big hits Sommer led things off on the pitcher's mound for Hollis-Brookline Cavaliers  JV. He went six and a third innings, allowing three runs on six hits and striking out nine.Laborde went 3-for -4 at the plate while "Z Money" Zachariah Tieman had a monstrous double in his only at bat.
Games for Thursday – May 23rd :
Baseball at Milford, dismissal at 2pm ,bus at 2:15pm and game at 4pm
Girls Lacrosse host Portsmouth,V-4:30pm and Jv-6pm
JV Baseball host Milford at 4pm
Boys Tennis travels to Manchester West for the semi-finals of the NHIAA Division II Boys Tennis Tournament. Dismissal at 2:15pm , match at 4pm.