Hollis Luminaria Stroll
On Dec. 14, families bustled into central Hollis to celebrate the fifth annual Hollis Luminaria Stroll. Despite the dismal weather, the event's committee did not let the rain dampen the festivities. They instead focused on the indoor activities and bringing smiles to the attendees' faces.
Setting up the event the day before, the committee festooned the entire Lawrence Barn with LEDs and strands of garland. At the entrance, they set up the second and first place winners from each category of their annual gingerbread house contest. "The person in charge of the Luminaria Event…set up tables for a Gingerbread House contest where contestants brought their gingerbread house entries. The contest was juried by Kathy McGhee, a Woman's Club member and one of our New Hampshire State Representatives," said Jen Hunt, the Lead Decorator of the Luminaria Stroll.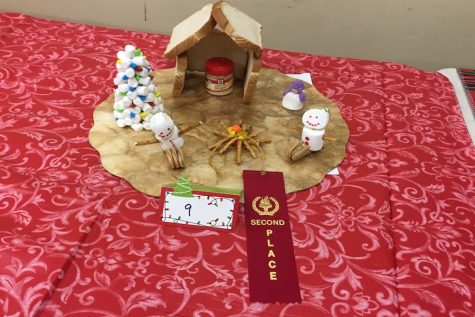 When the clock struck 4:45 p.m., Saint Nick himself pulled up to the Lawrence Barn in a brightly lit sleigh. Everyone had been eagerly awaiting his arrival, and the volume crescendoed when he entered into the building. The children cheered as the elves rang bells to welcome him.
Santa walked over to his sleigh in the room next-door to the gingerbread house area to take photos with the children. His elves in their green and red attire, coupled with pointy ears, prepped the area for a photoshoot. ""Lighting is set up for families to get their photos taken with Santa, and three young girls and one woman dressed like elves to be with Santa in the photos," said Hunt.
Families started to line up to take pictures with Saint Nick, when the elves realized that their camera had died. They persevered, deciding to have the parents take photos on their phones instead.
Two elves stood next to Saint Nick, one to help the child safely get on the sleigh and into his lap and the other to give them a complimentary candy cane. Just as the first child sat down in Santa's lap, the line of families was so long that it spilled out of the room. Everyone buzzed with energy and excitement to take photos with Saint Nick.
The Hollis Luminaria Stroll, despite the obstacles that it faced, continued on. Cathy Gast, on the board of directors for the Hollis Women's Club and one of the individuals who ran the holiday hotdog table at Lawrence Barn, said, "It's an all-day event and all aspects of the community help…It's just bringing in the holiday spirit in all parts of the town.