Field frenzy
As the spring sports season draws near, the girls' lacrosse team is still searching for a field to play at. After various incidents last year, including the injury of a referee, the girls' field has been deemed unsafe for play. This has the team frantically searching for a new location to host their home games, and hold their daily practices.
Over the past view weeks, the team has been holding conditioning sessions in the gym, but the whole season cannot be played in a school gymnasium–an alternative option must be found. The team will be holding tryouts at the Hampshire Dome in Milford, but it isn't practical for the team to play there all season either.  To date, it has been speculated that the team will play at Rivier University in Nashua, but this has yet to be confirmed. Coaching staff has also considered having no home games since field access if very limited. "We've discussed having no home games, or maybe playing at Rivier, but it's hard to hold practices there too. We may practice at Nichols, but baseball teams practice there, so we still don't know what will happen with our season," said Lauria Patz, '14.
Patz went on to say, "It's ridiculous that we're talking about installing a turf field when we don't even have a field to play on. Hopefully we add new fields in the near future so the program can continue to grow." The team is scrambling to find an alternative location to play this season so that they can have a fun, successful, and safe season, but time is running out.
Leave a Comment
About the Contributor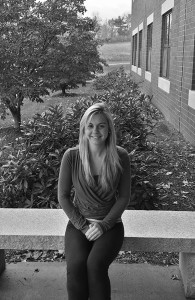 Sara Swabowicz, Co Editor-in-Chief
Sara Swabowicz is a senior at Hollis-Brookline High  School. She is a co-editor of the The CavChron LINE with Austin Bumpus; in the past she has served...