Cafeteria table conundrum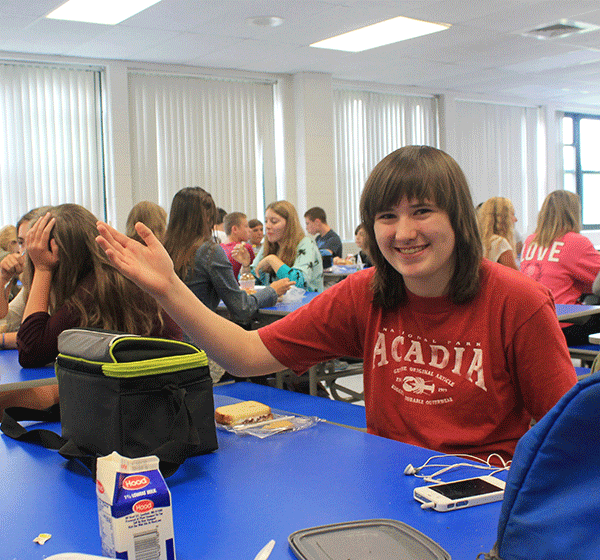 To upperclassmen, the cafeteria is obviously different. Seniors have the Mini-Caf instead of their traditional spot in the third-floor lobby, and rectangular tables have replaced the round ones in order to fit more students.
Along with other fire concerns the back lobby is not able to have tables in it anymore–however kids can still bring their lunches up there and sit on the benches.
Some students like being able to fit more of their friends at the table, but others aren't nearly as ecstatic–they feel like they have to shout across the room to talk to each other.
"You can't really talk to people down there," said Hannah Balfour '17.
"I don't like the new setup, because the tables are harder to get around," says Juliette Linder '16. And she's not alone–between the backpacks and how close the tables are, a few students feel a little cramped.
However, most of this change is going to be permanent. Hollis Brookline is aiming to accommodate more kids and give more space schoolwide, and the new lunch tables can now hold 272 students when every seat is full. According to Principal Richard Barnes, the seating was even measured.
"It was all squared out–like, we were in there with tape marking on the floor," Barnes said."Because we have really good kids we can do this. If this was another school this would not have worked."
The cafeteria also has a new set of double doors leading outside, to help ease the flow in the event of a student evacuation.