Co-ed Sports: Crossing the gender divide at HBHS
In the world of high-school sports, there has always been a stark difference between male and female disciplines. As one of the few elements in society today which still separates by gender, student athletes in high school  are known to consistently play on same-sex teams. Popular male sports include football, wrestling and ice hockey, while events like volleyball, field hockey and cheer are traditionally female-dominated.
The rationale New Hampshire Interscholastic Athletic Association (NHIAA) uses to determine and separate gender-exclusive sports is simple. As said in the NHIAA bylaws:
"Teams comprised primarily or solely of persons of one gender shall be granted equal instruction, training, coaching, access to available facilities, equipment, opportunities to practice and compete as teams engaged in a similar activity comprised primarily or solely of persons of the opposite gender. When a sport is offered in two different seasons each individual must participate on the team of his/her gender."
Essentially, sports which are "male-dominant" or "female-dominant" are just that–dominant, not exclusive. A school with enough interested students to start a female football team has every right to do so, much the same as Hollis-Brookline High School created its male volleyball team a few years ago. But if groups like that exist, for the purpose of providing sports to a certain gender, the NHIAA states that interested players must stick to their designated teams.
However, the NHIAA also states that, if there is not enough same-sex interest to create individual teams, girls may cross gender gaps to play with the boys–just not vice-versa.
The gender discrepancy itself comes from perceived or actual physical differences between each sex. It is widely expected that boys will be bigger and more densely muscular than girls, with implications suggesting that to have a boy on a girl's team would be dangerous. The NHIAA states:
"Girls shall be eligible to try out in any activity and, upon becoming a member of the team, will be eligible for NHIAA sponsored competition. This policy recognizes past inequities created by the traditional male domination of sports opportunities and the need to encourage and protect the development of girls' athletic programs."
The same treatment is not given to boys, because as stated, there is a danger in girls playing with a single, physically dominant male player on the field. According to Rhon Rupp, the HBHS Athletic Director, "If a girl comes out for football, they're taking that on their own as far as the risk". Essentially, there is thought to be little to no fallout when a girl plays male sports, but a lot of collateral damage when the equation is reversed. While this philosophy is under attack in some other states–for example, a Long Island case of a twelve-year-old male field hockey player being barred from playing next year despite exceptional talent–in New Hampshire, there has been little recent challenge.
Hollis-Brookline offers co-ed opportunities in about a dozen sports, including  soccer, basketball and track, but other disciplines blur gender lines a bit more. Sports like skiing and swimming hold co-ed practices, and in sports like bowling and Unified Athletics, it is accepted that both genders will be on the playing field at once.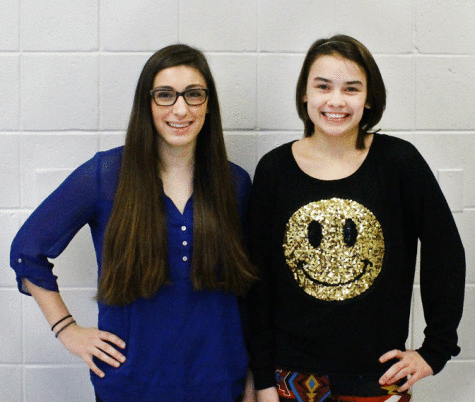 Insofar as crossover players, two notable Hollis-Brookline athletes are Suki Graham, '15 and Savannah Eliza, '18. Both girls play for the wrestling team, which is traditionally offered solely for boys. Graham and Eliza wrestle against primarily male athletes both at meets and practices, and both perform well enough to keep pace with the boys. In addition, though they may not attend HBHS, the school's hockey team integrates girls, and has brought on a few from Deerfield. Hollis-Brookline works with a co-op program with the other town, with both schools fielding a common team.
And in the past, there has been a strong precedent for girls playing boys' teams. The football team had a female kicker years ago, and often there are girls on the golf team. And rare male crossovers do occur, such as when boys decide to take part in Spirit Squad–an event which has happened multiple times in HBHS' history.
"The school does whatever the NHIAA mandates", said Rupp. HBHS abides closely by the Association's rules and bylaws, and takes care to not create opportunities for athlete injury. But, should a student know where to look, Hollis-Brookline has a wealth of athletic opportunities for each gender, whether separate or together.