Rock climbing 101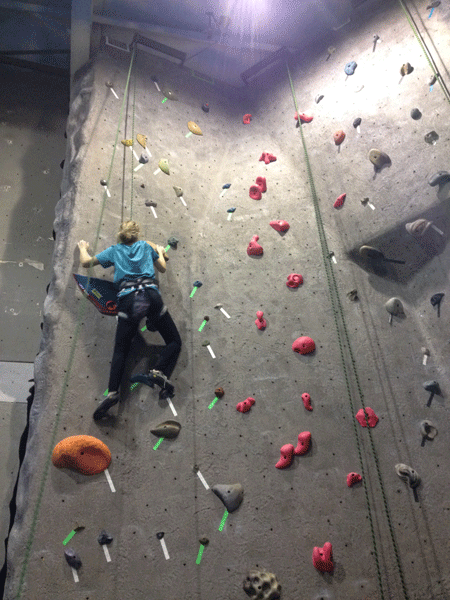 When people hear about rock climbing they may feel scared or worried for many reasons. Being nervous about something you have never tried is expected, but trying something new is even better because it may turn out to be something you love doing.
"Climbing is the best time of the week. It is the best way to unwind after a long day of school," said Skye Jacobs '17. Rock climbing may seem like something you need experience and time to learn, which may or may not be true depending on the level you wish to climb at.
First time climbers who may just be looking for a one day challenge should check out Vertical Dreams. Vertical Dreams is an indoor climbing facility who have locations in both Nashua and Manchester, New Hampshire. They offer beginner classes that will teach you how to belay and simple safety rules and will have you climbing in about fifteen minutes. They offer three types of climbing at the facility: top roping, lead climbing, and bouldering.
Top roping requires a partner to climb with (who will belay you as you climb). Then, for top roping, it is necessary to harness and must attach yourself to the the wall with a rope.
Lead climbing requires a more experienced climber as well as a belayer. You must have a lesson and be verified before you can lead climb at the gym. Lead climbing consists of the climber using a quickdraw, which is a pair of carabiners attached together by nylon webbing, the climber then runs their rope through the carabiner and continues climbing. There is a quick draw spot, which is basically a carabiner attached to the wall about every five or ten feet.
Bouldering is for the people who are either scared of heights or just like a short challenge. It includes a quick climb up a rock that is about about ten or fifteen feet tall. Bouldering differs from other climbing because you are not attached to a rope, the only safety you have is a crash pad below, as well as a spotter.
A beginner lessons package includes a belaying lesson as well as a day pass and equipment for $35. The indoor climbing gym is great for people who just want to get out and climb. "It is an interesting experience with people of all different skill levels coming together," said Hannah Balfour '17. Balfour is a member of the climbing club and uses the climbing gym frequently.
"The best thing about climbing club is that you don't need any experience it's a great way to relax with your friends outside of school and just hang around," said Bridget MacMillan, Hollis Brookline High School art teacher and climbing club advisor. If heights aren't your thing, don't let that stop you from getting out and climbing. As well as offering a tremendous amount of top roping at the gym, Vertical Dreams has a wonderful bouldering section.  
The staff at Vertical Dreams is extremely helpful, experienced, and educated in what they do. If you are working on a hard problem and just can't seem to get the route down you can ask for some advice on how to send the route. The staff does a great job at setting new routes up weekly so you don't get board of climbing the same routes over and over again.
No matter what your experience or strengths are, climbing is a sometimes challenging yet rewarding sport that anyone can try.