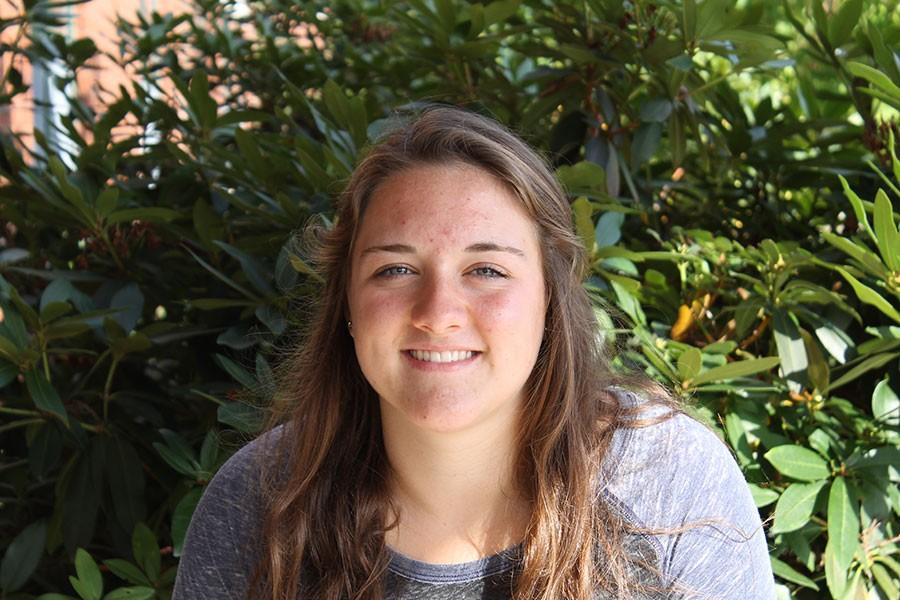 Stephanie Buchanan is a senior this year at Hollis Brookline High School. Buchanan has a brother who graduated from Hollis Brookline in 2013, and is now living in Hartford, Connecticut becoming a mechanic.
Buchanan is known for the wide variety of sports she participates in; she plays Varsity field hockey in the spring, swim team in the winter and varsity Softball in the spring and loves the competition as well as the exhilaration she gets from the fields and the pool. 
When Buchanan is not on school grounds you can find her either rock climbing or working at Val's Pizza. 
Although this is her first year as a journalist, she has always been interested in the current news stories here at HB.
After her four years are up here at HB, she hopes she will continue on to a higher education in hopes of pursuing dentistry. In college, Buchanan hopes to continue her passion for sports but at a club level rather than competition. 
Buchanan is excited to become part of the the J-crew club because now she can bring in new ideas that may not have been covered yet. She hopes to always be helpful and contribute to help the class and make the newspaper the best it has ever been.
Stephanie Buchanan, Staff Writer
Sep 19, 2016

50 Must Do's in High School

(Story)

May 17, 2016

Changing HB: HB the Change update

(Story)

May 13, 2016

AP Testing 2016: Stressed students, mixed responses

(Story/Media)

May 01, 2016

'DOS' for the GSA

(Story/Media)

Apr 21, 2016

Showing the spirit: tied up in tie-dye

(Media)

Apr 19, 2016

Showing the spirit: Tropical Tuesday

(Story/Media)

Apr 18, 2016

Showing the spirit: Comfy celebration

(Story)

Apr 16, 2016

Showing the spirit: The week ahead

(Story)

Apr 15, 2016

Showing the spirit: Penny Wars

(Story)

Mar 17, 2016

What makes a good teacher?

(Story/Media)

Mar 16, 2016

Senior year coming to an end

(Story/Media)

Feb 29, 2016

Zero hour workouts

(Story/Media)

Jan 22, 2016

What to do on winter 'daze'

(Story/Media)

Jan 12, 2016

Rock climbing 101

(Story/Media)

Dec 13, 2015

What you get off the field

(Story)

Dec 11, 2015

Your path after high school

(Story/Media)

Nov 19, 2015

Applying to colleges part 1: less is more

(Story)

Oct 20, 2015

The Green Group is back and ready to recycle

(Story/Media)