Kaitlin Johnson: A day in the life of a recovering athlete
Hollis Brookline High School's Kaitlin Johnson '17, severely injured her knee back in November  during a volleyball game. It was another close game for the varsity volleyball team at Alvirne High School;  determining their standings going into the playoffs. Johnson went down after an attack and twisted her knee the wrong way.
"Her knee cap was on the other side of her leg and it was one of the scariest moments of my life seeing the pain she went through," said teammate and friend Bella Zampieri '16.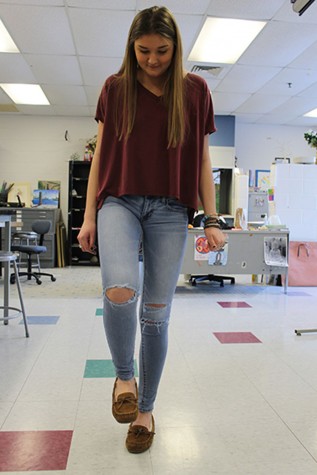 The team was able to win that night but with Johnson's injury still in their minds, they traveled to the hospital to visit her. Johnson went through an MRI to find out that she had torn her meniscus, sprained her ACL, and badly bruised her bones internally. This news was heartbreaking to both Johnson and her teammates but she's been working hard to regain her strength ever since.
"I go to physical therapy every week to do exercises like jumping squats, balancing and running on the treadmill to strengthen the muscles in my knee," Johnson.
Johnson has learned to deal with re-strengthening her knee on the daily but has words of advice for other athletes to prevent this type of injury.
"It's taught me that anything can happen in a blink of an eye, for other athletes who don't want to get hurt, make sure you stretch before games and if you're hurt don't push yourself, it will get worse."
With more high contact sports approaching like basketball and lacrosse, take the advice from your teammates, coaches, and athletic trainers because Johnson would have done anything to prevent her injury if she could.