Moving forward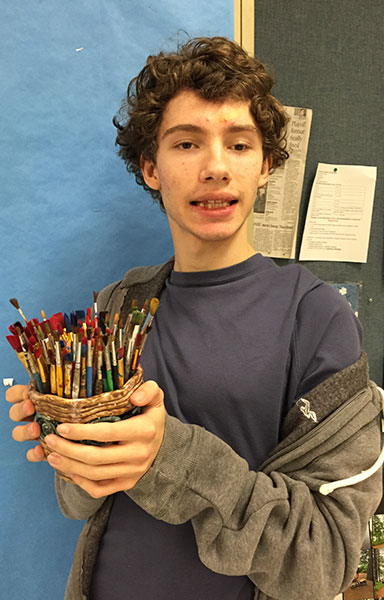 Hollis Brookline High School is proud to introduce some of their most helpful and passionate students that are truly productive around the school. Hollis Brookline's alumni, Jeremy Anderson '15 and Eastman Chandler '15 are continuing their education and working hard to construct their futures in the Lifeskills program.
Anderson and Chandler work not only in the Lifeskills program, but outside of school, as well. They travel to Milford in the mornings to participate in accounting, office management, and culinary classes. Anderson has his schedule packed with interning as an Office Manager here at HBHS as well as at the middle school, Hollis Chiropractics, and Gateways Community Services. He also is a current intern at Tulley BMW. Although he isn't quite sure of his future, he plans on working at the high school for the next few years. Anderson misses his friends the most, but has no trouble making new ones.
"It's hard to move away from my senior class. I miss my close friends and my sister Ashley," he said.
Chandler, unlike Anderson, is more interested in finance, culinary, and art. He loves art because of the interesting designs and the opportunity to be unique in his own way. Chandler contributes to the school by helping keep the HB Garden alive and healthy. Although he misses his friends, he gets to FaceTime them and has also made new ones. Chandler is a determined and knowledgeable student who has a goal for his future.
"I want to become financially stable and then think about the romance aspect of life," said Chandler.
These two passionate students will continue to make HB proud in their futures, no matter where they go. Case Manager of Special Education, Thomas Evans, has been working with them both on their journey to success and will continue to work with them until they are 21.
Evans said, "They are doing really well and their futures are very bright."
Evans is curious about what lies ahead for the two of them. Anderson and Chandler might be busy, but they're definitely on a mission.
"I like helping other people and getting work done because I am a dependable person and the world needs me," Anderson said.
"One thing people need from me is my knowledge, I am always going to be learning," said Chandler.
There is no doubt that these two will fulfill their goals and accomplish their missions by helping others along the way.