Contestants 'rose' to the occasion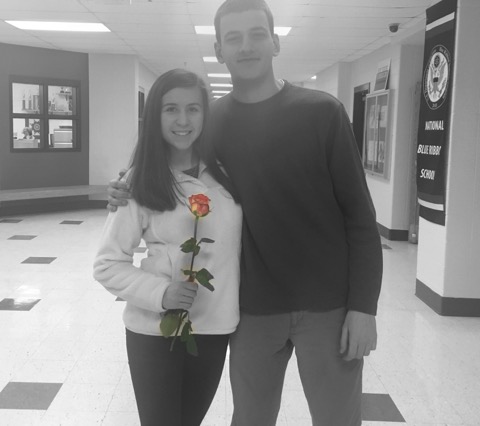 On Friday the 15th of January, first period, eleven of Hollis Brookline's finest gentlemen were given long-stemmed roses. They were told to present the flower to their escort of choice, who would accompany them to the annual Mr. HBHS competition, which is to be held on the evening of February 18.
The tradition of the rose invitation produces sweaty palms and anticipation among the entire student body at HB. Some contestants choose to keep to themselves who they will be asking, but others have a conversation with their hopeful escort in order to avoid any uncomfortable instances.
Although, one contestant wanted to purposefully make the moment awkward for his future escort.
One of the first to give away his rose on Friday morning was senior contestant Matt Bonnette. Entering into Nicole Hall's first period AP Literature class, Bonnette lowered onto one knee and formally asked Hall '16 in the most eloquent of ways if she would be his escort. Hall accepted while giggling the whole time.
Senior contestant Eric Pratt sat a mere three seats down from Hall in first period, admiring his own rose that laid across his desk. Pratt expressed that as much as he wanted to ask his escort, he "liked the way the rose smelt", therefore holding off until third period to ask Savanna Bent '18 so he could enjoy the floral scent a bit longer.
Down in Lab 141, contestant Erek Bodholdt '16 interrupted Lanie Wood '16 from her journalism work to ask her to be his escort. Wood happily agreed and explained, "Being an escort senior year is a nice ending memory to high school, I know it's going to be a blast."
The final senior contestant Bradley Simpson asked fellow classmate Takuma Okada '16. Simpson also received a positive response from Okada and we eagerly await the formalwear for that evening.
The three junior contestants also presented their roses throughout the day. Brian Delaney cordially asked exchange student Brit Stegeman, who is sure in for an American experience. Kensie Day '17 was also asked by fellow junior contestant Paul Menard.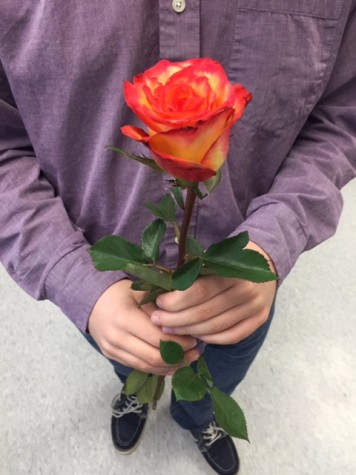 Contestant Bryce Newsham '17 checked with Kat Pellerin '17 the night before just so she wouldn't be caught off guard. Pellerin is ecstatic to be a part of the event, "I've never done anything like this before and I'm beyond happy I'm doing it with such a close friend."
The sophomore contestant Dave Bonnette '18, brother of senior contestant Matt Bonnette, delightfully asked junior Cassandra Stapelfeld to escort him. Do we sense some brother rivalry? (comment below!)
Hannah Thomas '18 was literally thrown the rose by sophomore contestant Isaac Wimmer. The untraditional way caught Thomas off guard a bit, as the half-stemmed, crushed flower fell on her desk, although Wimmer had asked Thomas two days prior. The rose was expected by Thomas, the way it was delivered though, was not. Thomas accepted regardless.
The only freshmen and final contestant Joe Messina may be an underdog in the competition given his class rank, but with escort Reagan Berry '19 by his side, he's prepared to give it his all.
With the stiff competition, be sure to keep an eye out for updates to get a sneak peek of who will be this year's Mr. HB.