Paint the walls down
Our Interior decorating class definitely stands out, even among the other electives at HBHS. While completing their regular assignments, which the students do in class, they also have the option take on a renovation project for one of the staff to redesign their room and then do a powerpoint presentation on it.
The students work in groups of about three to four to complete their projects within the limits of the semester, although extra time can be granted for larger projects. One such project was requested by Social Studies teacher, Trevor Duval.
Duval requested to have his room redone by the the interior decorating class, specifying that he  wanted that the walls be repainted and new shelves be added.
His reason for having asked for this renovation; He absolutely hated how ugly the walls were. In fact he went as far as to say they were "horrific".
He wanted the room to look like a social studies classroom, not just a regular classroom. Candice Hancock, Interior Design teacher, assigned Eliza Vertullo '19, Violet Wink '17 and Ashley Vurtt '19 from their period six class to be the ones to give the room "a little soul".
The focus point of the project is the front wall of the room with the whiteboard. It is to be painted to look like an old piece of parchment paper, similar to what the US Constitution or the Declaration of Independence to looks like. It is to be adorned with famous quotes from these two documents.
Then there is the subject of the shelves, which the group has been painting in the classroom for convenience. A lot of time and effort was put into making those shelves look rejuvenated.
At this time, the project has been going smoothly for everyone involved with only a few very minor inconveniences here and there. Duval has had to move to the library every sixth period class in order to allow the team room to work on the renovations, although this has not had any negative effects on his ability to teach the class.
In fact, he has even been receiving some positive comments and praise from students from his classes in other periods that are still taught in the room. Hancock also has had no difficulties when it comes to this project.
Nobody has complained about them making too much noise ,or the paint smelling so bad that people are getting nauseous, or any problems getting permission to make the changes. For the three working on the project, it was difficult for them to get their schedules to align in order to pick times to work, but other than that, the job has gone well for them with no difficulties working together.
At this point, the project is yet to be completed and there is no estimate for how much longer it will take to complete. It will definitely be tougher to get the group together for it now that they aren't going to be in the class anymore but they are sure to get it done.
About the Contributor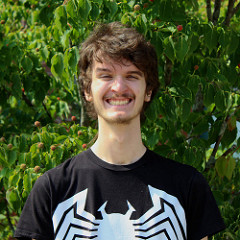 Tristan Machon, Staff Writer
Tristan Machon is a senior who spends most of his time playing video games and watching YouTube. Machon has taken a few photos since starting journalism...