Milford outlasts HB in Friday's home game
HB suffers a tough loss to Milford after controlling the first half
Heading into the night, HB held a 2-1 record, while Milford was undefeated through their first three games. After losing to Milford in their season opener, the Cavaliers looked to split the season series with Milford with a win at home. Riding a two-game win streak, HB sought to continue their success and give the undefeated Milford team their first loss of the season.
The Cavaliers won the tipoff and started off hot. They outscored Milford 14-1 to start the first quarter. Milford was clearly surprised by the quick offensive outburst, potentially due to some overconfidence heading into the game. HB played fluently on both offense and defense, resulting in a timeout called by Milford to reevaluate and discuss their game plan. After the timeout, Milford scored three points, and the first quarter came to a close. HB played strongly, winning the first quarter 14-4. They implemented teamwork on defense, and their offense was solid, led by Luther Payette '16 and Matt Simco '18.
The second quarter was more of the same for Hollis Brookline. They worked as a team on offense and defense, continuing their strong performance. They played tough defense while still limiting their fouls, resulting in Milford's struggle to break through the perimeter and find open lanes. Halfway through the second quarter, the Cavs led Milford 21-10, prompting another Milford timeout. Fearing that the game could potentially get out of hand, Milford cracked down and tightened up their play for the rest of the quarter. As Scott VanCoughnett '18 closed out the half with a layup, HB continued to lead, with a score of 30-21.
While the first half was dominated by Hollis Brookline, the third quarter looked like a different game. Milford appeared to have turned up their drive, and implemented a "no nonsense" attitude on offense and defense. With teamwork, they moved the ball around on offense, a struggle for them in the first half. HB didn't appear ready for this change in their opponent, and didn't respond well. HB was outscored in the quarter 18-4, resulting in a 39-35 lead for Milford.
Milford never looked back after picking up the lead. They embraced their dominant third quarter, and kept the pressure on in the fourth. HB couldn't recover from a dismal third quarter, and Milford began to run away with the game. As the game was closing out, the Cavaliers didn't give up and continued to fight. Three-pointers on back to back possessions by Nick Fothergill '17 kept the Cavs alive late in the game. It wouldn't be enough though, as Milford would take the game 54-44.
Hollis Brookline now sits at .500, with a 2-2 record. Milford improved to 4-0, sitting at the top of Division II along with Portsmouth and Bishop Brady. With fourteen games left to play, HB has plenty of time to climb up the standings. With the strong first half they played against a difficult opponent, success looks to be in the near future.
About the Contributor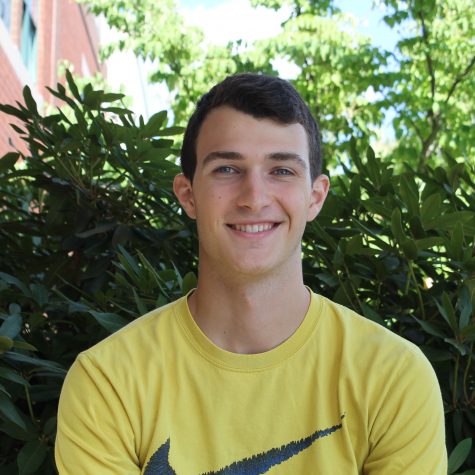 Nate Corsetti, Sports Editor
Nate Corsetti '17 has a passion for sports. He's a big baseball and football fan, and he runs track, cross country, and plays baseball for HB.. He...